Today we're talking about one of the coolest residents of the produce aisle—the cucumber! Today I'm going to give you a trick, a tip and a recipe featuring this familiar green veggie.
Cucumbers are related to both melons and squashes, but curiously they don't taste like other members of either family! In fact, cucumbers don't really have any taste at all, but they are very cool and refreshing.
There are some great reasons to add cucumbers to your diet besides the nice texture and crunch they add to a salad. Cucumbers have anti-inflammatory properties and they also have been linked to cancer prevention. Cucumbers contain lignans which lower your risk of developing ovarian, uterine, prostate and breast cancers. They also contain special phytonutrients called cucurbitacins which may prevent cancer cells from developing and surviving in the human body.
Good enough for me!
Now it's time for your Trick:
Try flavoring your water like they do in high end hotels, by adding slices of cucumber to your pitcher or glass. Nice change from lemon…or add both!
Your Tip:
Purchase organic cucumbers if you can find them. And if you can't? Please peel the skin before eating them.
And your Recipe: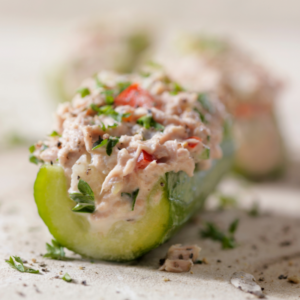 Cucumber Dill Tuna Boats
Ingredients
2

6-oz.

tuna steaks

grilled

1/2

cup

chopped pecans

2

large

scallions

thinly sliced

1/4

cup

chopped fresh dill

1

small rib

celery

diced

1/4

cup

diced red onion

Sea salt and freshly ground black pepper

to taste

1

teaspoon

cayenne pepper

1

tablespoon

paprika

1

ripe

avocado

peeled, pitted and mashed

2

teaspoons

fresh lemon juice

4

large

cucumbers
Instructions
In a large bowl, mix together all the ingredients except for the cucumbers and set aside.

Cut the ends off of each cucumber and cut each cucumber in half vertically.

Using a spoon, scoop out the center of each cucumber section.

Cut each section in half and scoop the tuna mixture into the center groove of the cucumbers.

Serve at room temperature.
Interested in more, refreshing recipes like this? Check out our Dinner Answers program here!