Most of us are familiar with the common yellow weed that marks the onset of spring in many parts of the country.
Dandelion greens are the enemy to gardeners everywhere, but these flower bed nuisances are actually real nutritional superstars.
Dandelion greens are very high in vitamins A, B, C, and D. They are rich in magnesium, potassium, iron, zinc, and calcium. Dandelion greens are commonly used in contemporary herbal medicine because of their diuretic properties. They're used to suppress appetite and as a digestive aid – dandelion greens are great for gut health.
I know dandelion greens are good for me, but I also love their bitter flavor. I enjoy dandelion greens sauteed in some olive oil, rendered bacon fat, or a little butter with garlic, onion, and some salt and pepper. They are absolutely delicious served alongside bacon and eggs in the morning. Mmm mmm!
Are you getting hungry for dandelion greens?
Now, it's time for your Trick!
If your lawn is full of dandelion greens in the spring and you are confident that chemical herbicides have not polluted the soil or air around your home, go ahead and harvest your own! Choose pale green leaves (the pale green leaves are tastiest) and get them before the plant flowers. After the dandelion plant flowers, the greens become more bitter. If you can manage to keep the root intact with the plant, the greens will last longer in the fridge if you're not eating them right away.
Your Tip:
Wash your dandelion greens thoroughly under running water after you harvest them, or bring them home from the grocery store. Wrap them in damp paper towels and keep them in the fridge for up to a week. You can freeze dandelion greens after they're cooked.
And your Recipe: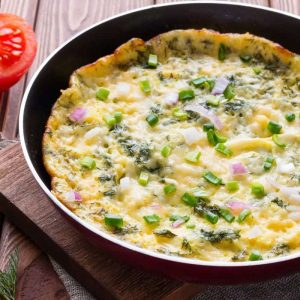 Green Chili Southwest Scrambled Eggs
Ingredients
1

tablespoon

coconut oil

3

cups

chopped dandelion greens

1

medium

onion

chopped

2

large

tomatoes

chopped

3

4-oz. cans

diced green chile's

1

small

cauliflower

cut into florets

1/2

teaspoon

garlic powder

sea salt and freshly ground black pepper

to taste

6

eggs

beaten
Instructions
In a large skillet over medium heat, heat coconut oil.

To the oil, add the next 6 ingredients (dandelion greens through garlic powder).

Cook for 5 minutes, until vegetables are slightly tender.

In a medium bowl, whisk the eggs and salt and pepper and pour over the vegetables.

Reduce heat to low and stir.

Cook for 5 to 10 minutes, until eggs are set and vegetables are tender.

Serve warm.
Looking for more delicious recipes like this one? Check out our Dinner Answers program today!