As fall descends upon us, the chill in the air makes our stomachs yearn for hearty soups. Soup is one of the best comfort foods around and it's very versatile in the sense that you can wing it depending on what ingredients are available. There's no need to follow a recipe. Some of the best soups are concocted as a way to use up leftovers that are sitting in your fridge. Here are a few helpful meal planning soup ideas using leftovers.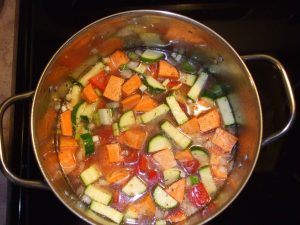 Leftover spaghetti sauce can be transformed into a tasty Italian soup called Pasta e Fagioli. Just thin out the sauce out with water to make it more soup-like and throw in some cooked elbow macaroni. This soup gets its heft from garbanzo beans so add a generous amount of beans to the pot. For the rounding out the meal, add a salad and some whole grain bread with Parmesan sprinkled over the top of the soup.
When you have a bit of chicken left over but not quite enough to feed everyone, turn it into a meal by making chicken and rice soup. Brown rice is a great way to sneak in some fiber and nutrients and makes this a much better choice than chicken noodle soup. Chop and boil a few carrots, a few pieces of celery, and an onion in chicken stock until soft. Then shred your leftover chicken and toss it in. Add cooked brown rice and serve.
Leftover vegetables can almost always be boiled and pureed to create a comforting soup. Potatoes, squash, carrots, and leeks are the best candidates for this method. Simply boil and then strain the vegetables into a blender and blend until smooth, adding the reserved cooking water until you reach the desired consistency. Bits of leftover ham or other meat can turn this into a quick, healthy meal with a pleasing texture.
Of course if you prefer you can start with a soup recipe and improvise from there. Don't be scared to try new things. With enough planning and organization you'll be able to "wing it" without even thinking if you keep your pantry organized and stocked with the essentials.