Dinner Diva
Flavored Vinegars
Adding pizzazz to your recipes is as easy as tossing in a few splashes of a fun flavored vinegar.  Sure you can buy these at the grocery store but it is fun and easy to make your own (not to mention a lot cheaper). Let the kids join you and let their creativity run wild! Now let's gather up some of your favorite herbs and spices and get creative.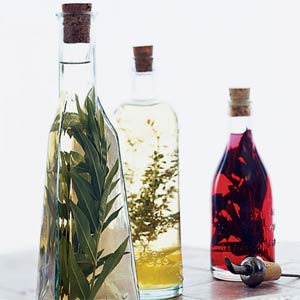 To create flavored vinegar, you will need a bottle of white distilled vinegar. White is the most preferred when making flavored vinegars because it is the least expensive and is very bland. Since it is bland it will not bring its own unique taste to the recipe other than the taste of vinegar. Put the vinegar in a clean, well sterilized glass container. You can find unique glass bottles at dollar stores, large discount stores, and even thrift stores. Add the herbs and spices of your choice to the vinegar. Popular choices include rosemary, oregano, thyme, basil, sage, and cilantro. Colorful herbs will tint your vinegar while also giving it a different flavor.
Once you have completed the mixture, the flavored vinegar should be allowed to steep for at least one week. Shake the container each day to allow the herbs to fully mix with the vinegar. While refrigeration is not necessary, most people prefer to store their vinegar in the refrigerator until it is ready to use. After it has steeped for a week give it a test. Simply sprinkle the flavored vinegar on your next dish to taste your creation. Most prefer no more than a teaspoon on their food, but the amount is up to you.
Oh, and don't forget, these make great gifts for neighbors, teachers, and even the postman during the holidays. If you're giving your flavored vinegars as gifts why not include your favorite recipes from SavingDinner.com printed on fun papers and tied to the bottle?
Here's a few suggestions to get your creative juices flowing:
Chives, garlic, peppercorns, and cloves to be used as salad dressing for potato salad, coleslaw, or pasta.
Red chilies, garlic, and jalapeno peppers used in pinto beans, chili, salsa,
and other Mexican cooking.
Cranberries, honey, cloves, and cinnamon sticks used on chicken, turkey, and salads.
Dill and vinegar is great on potato salad, coleslaw, greens, fresh peas, and beets.
Rosemary, with or without garlic, works well with white beans, soups, salad dressings, and pork.
Apples, sage, and garlic goes great with sauerkraut, pork, sausage, and poultry stuffing.
Watch Leanne make some of these on YouTube!