Brazil nuts grow from a tree in an Amazon Rain Forest in South America  They are full of antioxidants and loaded with selenium, magnesium, copper, and potassium. These nutrient-rich nuts have about 2,500 times as much selenium as any other nut. Selenium is a powerful antioxidant which has been proven to protect against heart disease and cancers like prostate cancer.
Brazil nuts high selenium content also discourages the aging process and stimulates the immune system. In a study of patients with early Alzheimers disease, antioxidants – including selenium – boosted mood and mental performance. Like all nuts, Brazil nuts are an excellent source of protein and fiber. They are also high in minerals including zinc and magnesium, and contain useful amounts of phosphorous, copper and iron. However, don't go too nuts for this nut. They are very high in fat so you want eat them in a controlled way, LOL. Too many nuts will grow your thighs! 🙂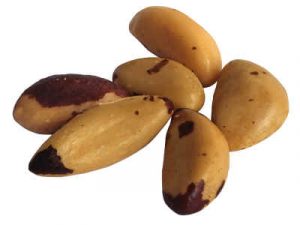 Here's Today's TRICK:
Even though Brazil nuts are tough to the touch, they are really a very creamy nut and make fabulous nut butters. Take some raw nuts, clean, wash and dry and grind in a coffee grinder (used only for this purpose) or run through a powerful blender or even a juicer for instance and healthy all-natural nut butter.
Here's a TIP:
The oil from the Brazil nuts can be used to buff out scratches on furniture and wood. Who knew??
And Your RECIPE: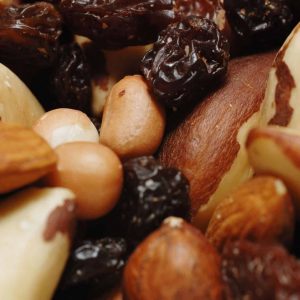 Spiced Raisin Brazil Nut Mix
Ingredients
1

cup

Brazil nuts

washed and dried

1/4

cup

raisins

1

tablespoon

anise seed

3

tablespoons

raw honey
Instructions
In a small mixing bowl, add raisins, anise seeds, and nuts.

Stir well.

Fold in raw honey.

Spread on a sheet pan covered with waxed paper.

Refrigerate at least an hour before serving.
Notes
For variations, try using roasted nuts, cranberries, or other dried fruits.
Looking for more fun recipes like this one? Check out our Dinner Answers program today!