I love how a couple of tablespoons of rich, wonderful tomato paste adds such a deep tomato flavor to whatever it's added to. I haven't met a tomato sauce that didn't love tomato paste!
Tomato paste is an excellent source of potassium, B vitamins, iron, and the potent antioxidant lycopene. Studies show men who eat more lycopene have a reduced risk of stroke. To get these health benefits, it is recommended that you consume 4–8 milligrams of lycopene daily, and 1 tablespoon of tomato paste provides approximately 4.5 milligrams.
Most of us always have a can of tomato paste in the pantry, but did you know you can make your own tomato paste?
All tomato paste is, really, is tomatoes that have been reduced down and down and down some more.
To make tomato paste, peel and seed your tomatoes, and then dice them into little pieces. Put tomatoes in a single layer in a medium-large saucepan. Toss some salt over the tomatoes and cook at medium heat, uncovered, stirring once in a while, until you have tomato paste! Be patient because it can take a couple of hours for this to happen. Keep the heat low enough that the tomatoes aren't boiling, but high enough that there's steam coming from them.
If you have too many tomatoes to stick to a single layer in a saucepan, put your oven to work. Cook the tomatoes, with a good couple of shakes of salt, at 300 degrees. Cook uncovered in a roasting pan or dutch oven, stirring every 30 minutes until you're left with tomato paste.
If you'd prefer to buy your tomato paste, that's fine, but do make sure that the paste you buy lists just tomatoes and salt on the label. Many commercial tomato pastes contain high fructose corn syrup and other additives.
Now it's time for your Trick:
Freeze your tomato paste in ice cube trays. Most dishes call for about the 2 tablespoon amount that the average ice cube tray compartment holds. When the paste is frozen, pop the frozen portions in a plastic bag, taking it out as needed. Doing this will save your leftover homemade or canned tomato paste from spoiling at the back of the refrigerator.
Your Tip:
For a deeper flavor, leave the seeds in and the skins on. But the catch is, you'll need to put your tomato paste through a food mill to strain those babies out later.
And your Recipe: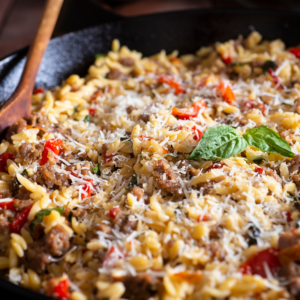 Skillet Sausage Lasagna
Ingredients
2

tablespoons

olive oil

1

shallot

chopped

2

cloves

garlic

minced

3/4

pound

Italian pork sausage meat

2

14.5-oz. cans

diced tomatoes

1

6-oz. can

tomato paste

or use homemade

2

teaspoons

sea salt

1

teaspoon

freshly ground black pepper

8

ounces

Bow Tie pasta

cooked

2

cups

shredded part-skim Mozzarella cheese

1/4

cup

chopped basil leaves
Instructions
Heat the olive oil in a large skillet with a tight-fitting lid over medium-high heat. Add shallot and garlic; cook and stir until soft. Add sausage meat; cook, breaking up with a wooden spoon, until no longer pink. Stir in tomatoes and tomato paste then season with the salt and pepper. Add the cooked pasta and stir well to combine. Remove skillet from the heat; add the Mozzarella and basil. Cover the skillet and allow the cheese melt. Serve hot.
For more delicious recipes like this, subscribe to Dinner Answers today!