In order to lessen your risk of developing chronic disease, you have to lower inflammation. One of the best ways to get rid of that inflammation is through your awesome diet! So today, I'm going to give you a great tip, a new trick, and a fabulous recipe focusing on an anti-inflammatory superstar: Turmeric!
You wouldn't think that one of the ingredients on your spice rack might be a hero in the world of battling inflammation, but it's true.
Turmeric contains a pharmacological agent by the name of curcumin. This curcurmin has properties that are comparable to Motrin and other over-the-counter anti-inflammatories on the market. But, turmeric doesn't produce the side effects that these NSAIDs do. (Bonus!)
If you have arthritis or any other inflammatory issues, eat turmeric on everything! It will bring you great relief and cool down that inflammation.
Turmeric will also help to reduce the amount of mucus in your body, it helps with bowel health and it can even protect against cancer and cardiovascular disease. Did I mention that turmeric can also lower your cholesterol? SCORE!
Now, for your Trick:
Add turmeric to all of your egg dishes. It will make them healthier and more yellow, but without adding an overwhelming flavor! Add it to your steamed cauliflower as well. Mmm!
Your Tip:
Turmeric is susceptible to light, so be sure to store it in a dark, cool cupboard.
And your Recipe: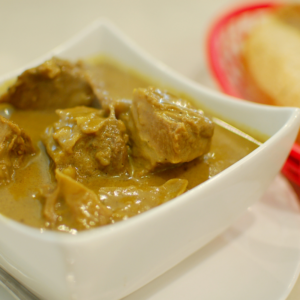 Curried Beef
Ingredients
1

pound

stewing beef

cut into 1-inch pieces

1

tablespoon

olive oil

1/4

teaspoon

turmeric

1/2

teaspoon

sea salt

1/4

teaspoon

freshly ground black pepper

1/8

teaspoon

chili powder

3

teaspoons

dark sesame oil

1

tablespoon

minced gingerroot

3

cloves

garlic

minced

2

cups

low sodium beef broth

or use homemade

2

tablespoons

fish sauce
Instructions
In a large bowl, place first 6 ingredients (beef through chili powder); toss well to coat. Cover and refrigerate for at least 30 minutes or up to 2 hours.

Heat the sesame oil in a large skillet or wok over medium heat. Add gingerroot and garlic; cook for 1 to 2 minutes or until soft and fragrant. Raise skillet (or wok) heat to medium-high. Add beef; cook, stirring occasionally, for 4 to 5 minutes or until browned. Stir in broth and fish sauce; bring mixture to a boil then reduce heat to low, partially cover and cook for 25 to 30 minutes or until beef is tender and liquid has thickened.
Want a great anti-inflammatory supplement to help? Check out our InflaCrusher by clicking here!