Some people say it was a pomegranate that Eve handed to Adam in the Garden of Eden. I've also heard that our friends, the ancient Egyptians, would bury loved ones with pomegranates due to the fruit's ability to offer eternal life. (Hey, it's worth a shot!) Chinese eat candied pomegranate seeds (arils) for good luck, Greeks break open pomegranates at wedding celebrations, and the rest of us just can't wait to crack open one of these juicy fruits in the fall of the year when they're in season.
Pomegranate arils are sweeter and less tart than cranberries, but similar in flavor. Delicious sprinkled on yogurt, salads, or eaten out of the palm of your hand, these pretty little juice packets are chock full of powerful antioxidants, fiber, and vitamins.
Pomegranates lower the risk of prostate and breast cancer, can help against heart disease, reduce cholesterol, and fight cell damage. They are said to have the ability to fight erectile dysfunction, reduce inflammation caused by arthritis and raise oxygen levels in the heart.
Pomegranates are also one of the very few fruits with juice every bit as beneficial as its seeds or flesh. When you squeeze the juice from a pomegranate, all the rich antioxidants in its peel are released into the juice.
All these health benefits and they're also pretty, yummy, and fun to eat.
When shopping for pomegranates, choose a fruit that's heavy for its size. Look for bruises and cracks in the skin. Don't buy those. You can store a pomegranate on the counter for a month. It will last in the fridge for twice as long.
When you remove the seeds from the fruit, they can be kept for a couple of weeks if they're in a sealed container in the refrigerator. The arils can also be frozen.
Now it's time for your Trick:
To open a pomegranate, gently run a sharp paring knife just through the peel, working your way around the diameter of the fruit. Gently pry the two halves apart, then with the pomegranate submerged in a bowl of cold water, carefully pull apart the membrane. The arils will sink and the membrane will float.
And Your Tip:
Much of the goodness of a pomegranate is in the seeds. Chew them well and get as much good fiber into you as you can!
And your Recipe: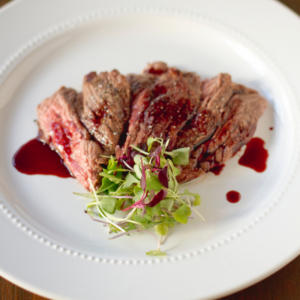 Steak Pomegranate
Ingredients
1 1/2

pounds

beef top sirloin steak

trimmed

1

teaspoon

peppercorns

preferably mixed, coarsely ground

1/2

teaspoon

sea salt

1 1/2

teaspoons

chopped fresh oregano

divided

2

teaspoons

olive oil

divided

1

cup

pomegranate juice

4

teaspoons

brown sugar

2 1/2

teaspoons

balsamic vinegar

divided

4

cups

chopped spinach
Instructions
Sprinkle steak very generously with ground peppercorns and sea salt and sprinkle each side with half of the chopped oregano. Heat 1 teaspoon of olive oil in a large skillet over medium-high heat; add steak and cook to desired level of doneness (about 5 minutes per side for medium-rare); transfer to a platter and tent with foil to keep warm. Add pomegranate juice, brown sugar and 2 teaspoons of balsamic vinegar to the skillet; bring to a boil and cook until reduced to 1/4 cup of glaze (about 5 minutes), stirring occasionally; season to taste with salt. Toss the spinach with the remaining olive oil and balsamic vinegar and season to taste with salt. Divide spinach evenly among dinner plates. Slice steak and arrange alongside spinach. Drizzle glaze generously over steak and serve.
PS–You can receive delicious menus (complete with shopping lists!) like this delivered right to your email inbox by subscribing to Dinner Answers today!