Now more than ever, nutritional nightmares abound on grocery store shelves. Products that are manipulated to hook us into food addictions take us hostage daily. You cannot be passive when it comes to buying your food and throw just any old thing in your cart. If you implement a few simple rules, you will no longer be victimized by the food industry again: read the food labels of each and every product you buy.
If you see anything with an additive you can't pronounce or don't know what it is, don't buy it.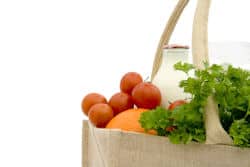 Watch too, for food dyes. Did you know that Red No.3 (a dye allowed in foods) is also used as a pesticide for spraying on manure piles to kill maggots? (Source: EPA) allow No. 5 I know you've seen before in different foods and drinks. Allergists have reported all kinds of serious physical effects in some of their patients, including hives, asthma, and behavioral problems. (Source: Lancet, Journal of Pediatrics). Think about it: why would you want your child drinking an electrolyte replacement drink that looks like toilet cleaner? Do you REALLY want that kind of dangerous junk in your food? These additives, fake colorings, and flavorings are the food industry's weapons of mass destruction-true chemical warfare. We need to take a stand for Real Food and say NO to this kind of
"food" because it is not food at all!
Keep it simple: eat easily identifiable real food. Skip the icky mixes that you constitute with water, partially hydrogenated and hydrogenated oils, and all that garbage. You know what food looks like. You'll find it in the produce section, the meat counter, and some fairly inexpensive dried beans, whole grains, and breads on your grocer's shelves. Read the labels, strap on a whole new mindset of awareness and get rid of the junk. The results will astound you. You will see your children's behavior improve, your own moods even out and your grocery bills decrease – junk food is expensive.
We need to be reminded that we are feeding souls here – not filling holes. Your children's tummies can't be filled like a hole in the plaster. They need honest nutrition that will help them grow, learn, and become all that God intends them to be. They can't do that on junk. Think about your car. You'd NEVER intentionally put less than decent fuel in it or you might damage the engine. Why would you do that to yourself or your family? You can always replace your car, but those faces across the dinner table are irreplaceable.
Here is a terrific dinner recipe that always gets rave reviews. Garlic Lime Chicken will help you feed them right and make you feel like you've done your good deed for the day: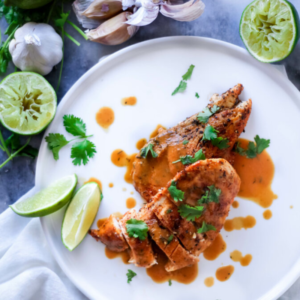 Garlic Lime Chicken
Ingredients
1/2

teaspoon

salt

1/2

teaspoon

Pepper

1/8

teaspoon

cayenne pepper

1/8

teaspoon

paprika

1

teaspoon

garlic powder

1/2

teaspoon

onion powder

1/2

teaspoon

thyme

4

boneless skinless chicken breast halves

1 1/2

tablespoons

butter

1 1/2

tablespoons

olive oil

3

tablespoons

lime juice

1/3

cup

low sodium chicken broth
Instructions
In a small bowl, combine the first 7 ingredients.

Sprinkle mixture on both sides of chicken breast halves.

In a skillet, heat butter and olive oil together over medium-high heat.

Saute chicken until golden brown, about 5 minutes on each side.

Remove from skillet and keep warm.

Add lime juice and chicken broth to the skillet, whisking up all of the browned bits from the bottom of the pan.

Cook until the sauce has reduced slightly.

Return chicken to the skillet to thoroughly coat with the sauce; serve.
Notes
Nutritional Information: Per Serving: 343 Calories; 11g Fat; 55g Protein; 2g Carbohydrate; trace Dietary Fiber; 147mg Cholesterol; 612mg Sodium. Exchanges: 0 Grain (Starch); 7 1/2 Lean Meat; 0 Fruit; 1 1/2 Fat. LC
SERVING SUGGESTION: Steamed green beans and Cauli-rice (process cauliflower in a blender or food processor until it resembles grains of rice; steam "rice" until tender; drain; salt and pepper to taste and fluff with a fork).
SERVING SUGGESTION: Serve brown rice instead of Cauli-rice. KOSHER: Use all oil instead of butter and oil.
Variations of Garlic Lime Chicken:
Tex Mex Top with cilantro, avocado, tomato, and red onion. Serve with black beans, whole wheat tortillas, and a large salad.
Capers Verison Use 4 tablespoons lemon juice instead of lime juice. Top with capers and parsley.