What do you see in your mind's eye when you hear the words, "fast food"? Do you see golden arches and a clown named Ronald? Or is it more like a bearded Southern gentleman whispering promises of perfect fried chicken?
How about stir fry? Have you ever considered that? You don't have to get in your car and drive-thru anywhere. It's almost as fast as a drive-thru, too. Stir-Fries are easy, healthy and if you have the inclination to get yourself a flat-bottomed wok (one of my favorite cooking tools) it's a snap, although any old large skillet will do.
The thing that is so wonderful about a stir fry is you can vary the spices and come up with your own unique recipe–once you get the hang of making stir fry, that is. (What do you think fajitas are anyway? The ultimate Mexican stir fry!)
The secret to a perfect stir fry is to make sure the skillet or wok (with the added oil) is hot before you add the food. To ensure even cooking, keep the food moving by stirring constantly–as if your very life depended on it. 😉
Here's cinchy recipe that will cook up faster than the rice will–so make sure you time it right. I have nothing but RAVES every time I serve it.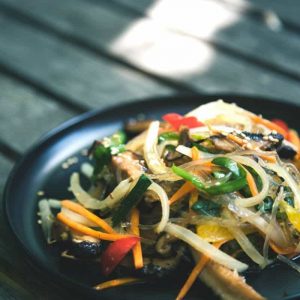 Easy Chicken Stir Fry
Ingredients
4

tablespoons

soy sauce

OR coconut aminos

1

tablespoon

ketchup

2

teaspoons

ground ginger

or grate some fresh

2

cloves

garlic

pressed

3

skinless boneless chicken breast halves

thinly sliced, about 3/4 pound

1

tablespoon

vegetable oil

use me first

1

tablespoon

sesame oil

use me second

6

green onions

cut into 1-inch pieces

1

green bell pepper

thinly sliced

1

red bell pepper

thinly sliced

4

cups

hot cooked brown rice
Instructions
Mix soy sauce, ketchup, ginger, and garlic in a resealable heavy-duty plastic bag.

Add chicken; seal bag and turn to coat with marinade.

Let stand 15 minutes.

Heat 1 tablespoon of the oil in 10-inch skillet or wok over medium-high heat.

Add green onions and bell peppers; stir-fry until crisp-tender.

Remove from skillet.

Heat remaining 1 tablespoon oil in a skillet.

Add chicken; stir-fry 4 to 5 minutes or until no longer pink in center.

Stir in bell pepper mixture.

Serve with brown rice.
Notes
Per serving: 436 Calories; 9g Total Fat; 27g Protein; 9g Fiber; 61g Carbohydrate; 51mg Cholesterol; 670mg Sodium