Dear Friends,
Have you ever had a morning that you knew you shoulda let your crockpot do dinner for you? You're driving to work thinking, "If only I'd had a few extra minutes to get dinner in the crockpot…" Well, what if your pressure cooker could save your dinner when you got home? And then there are those nights when the only thing you have time to do is serve dinner and get the kids schlepped to their activities. Yep, you guessed it…a crockpot meal is the only way to go! It cooks while you're at work!
Have you seen our NEWEST eCookbook? If you need it fast or you need it slow, it doesn't matter, we've got BOTH! Confused?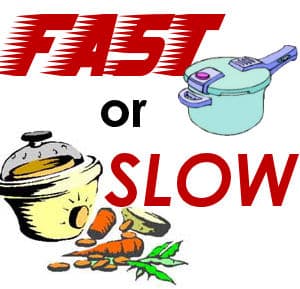 Here's how it works – you choose what you want to eat then prepare your dinner FAST in your pressure cooker or take the SLOW road and let it simmer all day in the crock cooker. Either way we've got you covered with our new Fast or Slow eCookbook. 25 mouthwatering  recipes with two cooking methods each (one for the pressure cooker and one for the crock cooker) to help you get dinner on the table at whatever speed you choose!
Here's a few of the delicious recipes you'll find in this spectacular eCookbook: Macaroni and Cheese, Beef Bourguignon, and Potato Leek Soup. Yummo!
You get all of this for just $17 but wait there's more… there's ALWAYS more! If you grab a copy of our Fast or Slow eCookbook this week you'll also get our Pressure Cooker eCookbook (valued at $17) AND our Five for the Freezer Crock Cooker menu (valued at $5). All of this for just $22! That's almost half off!
That's a $39 value for just $22. This delicious bundle is only available this week so grab it fast! Click Here Now!
Love Leanne
PS if you're looking for a new crock cooker click here or for an excellent pressure cooker (not like the old scary ones granny used) click here This is a great idea for a Christmas gift. Give our menu with a new crock cooker or pressure cooker.