You don't have to travel the world to give your family a little culture. Just bring the world to your dinner table. You can have a new theme each night of the week – Mexican, Chinese, Indian, Thai, French, Italian, Japanese, African, European, etc… I know I've left a ton out. Just use your imagination.
Add to the fun with conversation about the culture and people (you can learn a lot from a few simple google searches). Add a movie, centerpiece, or even fun costumes to the fun.
The Chinese include a lot of vegetables and rice in their meals. Here's a recipe to get you started for a fun Chinese night.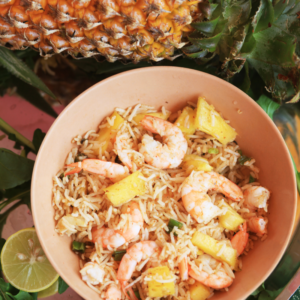 Pineapple Shrimp Fried Rice
Ingredients
2

tablespoons

olive oil

1

teaspoon

minced ginger

1

teaspoon

minced garlic

1

tablespoon

canned Jalapeños

optional

1/2

onion

chopped

1

red bell pepper

cut into bite-sized pieces

1/2

carrot

cut into pea-sized pieces

1

cup

cooked shrimp

you can use other protein like chicken if you want, just cut it to shrimp-size

1

can

pineapple rings

2

cups

brown rice

cooked

1-2

teaspoons

soy sauce

Curry powder

to taste

Sugar

to taste
Instructions
Preheat a wok or large skillet on medium heat. Combine olive oil, ginger, garlic, and Jalapeños in the wok. Saute for about 30 seconds then add the chopped onion. Add the red pepper and carrot after one minute. Allow to saute together for 1-2 minutes. Add the shrimp. Cut the pineapple rings into wedges and add them in last. Once the ingredients have stir-fried in the wok for several minutes, add the cooked rice, and toss. Immediately follow the rice with the soy sauce. Cook for 2 minutes. Add in as much curry powder and sugar or honey as you want to season the dish. One teaspoon of each is usually sufficient. Serve.
While enjoying your dinner discuss what you know about the Chinese culture. If you really want to play the part during ethnic food night, hang a Chinese flag in the dining room, dress up in Chinese clothing and use chopsticks. Have fun!