Food For Thought:
Are You a Food Addict?
By Leanne Ely, C.N.C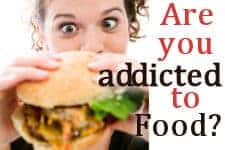 We all crave food at one time or another but food addicts typically crave specific foods and they crave them more often. Some of the common foods addicts crave are foods high in sugar, salt, or flour.
Contrary to common opinion self-control is not the issue. In fact, most food addicts have more self-control than the average person. Food addicts are often obese but not always. Some food addicts compensate for their over eating with excessive exercise, purging, and other extreme measures.
Here are a few questions you can ask yourself to determine if you are a food addict:
* Do you think you cannot control your intake of food, especially junk food or high sugar foods?
* Have you tried different diets or weight loss programs, but none has worked permanently?
* Do you find yourself feeling depressed, hopeless, sad or ashamed about your eating or your weight?
* Do you find yourself eating when you are upset or reward yourself with food when you do something good?
* Have you ever noticed after eating sugar, flour, or wheat that you become more irritable?
There is hope. If you think you might be a food addict you are not alone. For most addicts the answer is simple – avoid what you are addicted to. If it's drugs and/or alcohol, you can stop them. However you cannot "stop" food. You still need food to eat. So what can you do?
First, recognizing you may need help is a good start . Find a friend, family member, or other person who can support you as you work to overcome your addiction.
Second, plan your meals . If you do not buy it you cannot eat it right? Having a shopping list and buying only from that list is a good start.
Finally, keep a food journal . By recording what you eat and how much you eat you can make a conscious decision to control your intake.
Recovery may require more . There are support groups and doctors who specialize in food addiction. You can typically find these by doing a search on the internet for your local area.