Tips, Tricks, and a Recipe
Bell Peppers
By Leanne Ely, C.N.C
Today's Focus is on BELL PEPPERS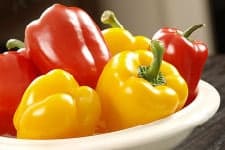 Not all bell peppers are created equal. First there are the colors – red, orange, yellow, and green are the most common. Second is the flavor – from sweet to hot. It is all from the same plant. The only difference is when they are picked. As the pepper gets riper, it gets not only a better taste, but it also gets more nutritive value. A red pepper is actually a fully ripened green pepper with a milder flavor.
Here's Today's TRICK:
Bell peppers freeze well without being blanched, but it is better to wash them first. For maximum flavor and nutritional value, store them whole. Sweet peppers lend themselves well to drying and keep at least 1 year when dried. They are also good marinated.
Here's a TIP:
Red pepper has more vitamin C than oranges and are also high in beta-carotene.
And Your RECIPE:
Stuffed Pepper Casserole
Serves 4
1 pound 95% lean ground beef
2 tablespoons chopped onion
1/3 cup chopped green bell pepper
1 cup cooked brown rice
1/4 teaspoon garlic powder
2 (8-oz.) cans no salt added tomato sauce, divided
Olive oil
3 medium green bell peppers, seeded, deribbed and sliced lengthwise
1/2 cup shredded part-skim Mozzarella cheese
Preheat oven to 350 degrees. In a large skillet, brown beef, onion, and chopped bell pepper, stirring occasionally; drain off fat. Stir in rice, garlic powder and 1 can of tomato sauce; heat through. Lightly coat a 9- x 9-inch baking pan with olive oil and line it with half of the sliced peppers. Pour half of the meat mixture over the peppers. Layer remaining sliced peppers on top of meat mixture and pour remaining meat mixture on top. Pour remaining tomato sauce over meat mixture. Cover with aluminum foil wrap and bake for 45 minutes. Uncover and bake for an additional 10 minutes. Sprinkle with cheese and bake 5 minutes longer or until cheese is melted.