I just love the sweet, tart flavor of a juicy ripe cherry. But really, who doesn't? Cherries are not only delicious, these delicate little fruits are also very healthy. If you suffer from gout pain, you probably already know that cherries can help prevent flareups but there's much more to cherries than that.
Cherries are known to reduce inflammation in the body and if you eat them on a regular basis, you'll find they can also help reduce muscle pain. Some studies have actually shown that eating cherries on a daily basis is similar to regularly taking ibuprofen.
Cherries are also a good source of vitamin A, E and C, and they're a yummy way to get your fiber into you.
Tart cherries are available year round, and I use them frequently in savory dishes. During the summer when sweet cherries (also known as dark cherries) are in season, I am constantly snacking on them and tossing them into salads.
So what else is there to know about cherries?
It's time for your Trick:
Cherries bruise easily and they are very perishable. Cherries will only stay fresh in the fridge for a few days so eat them shortly after bringing them home.
And your Tip:
When shopping for cherries, look for fruit with the stem still attached. The stem should be nice and green and not wilted. A fresh looking stem is a sign that the fruit was picked recently.
And your Recipe: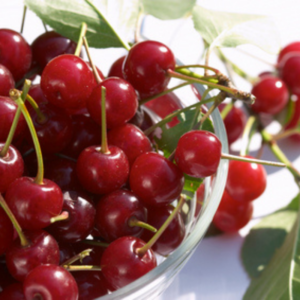 Sweet and Tangy Cherry Baked Turkey Strips
Ingredients
1

tablespoon

olive oil

1/2

cup

chopped red onion

1/2

cup

chopped red bell pepper

3

cloves

garlic

pressed

1

pound

boneless skinless turkey breast meat

cut into 1-inch strips

1/2

pound

black cherries

pitted and chopped (fresh or frozen)

1/2

cup

low sodium chicken broth

2

tablespoons

brown sugar

2

tablespoons

balsamic vinegar

2

tablespoons

chopped basil leaves

1

tablespoon

cornstarch

1

tablespoon

water
Instructions
Heat the oil in a large, deep skillet with a tight-fitting lid over medium heat. Add onion, bell pepper and garlic; cook for 3 to 5 minutes or until tender-crisp. Add turkey, cherries, broth, brown sugar and balsamic vinegar; blend well. Bring mixture to a slow boil then reduce heat, cover and simmer for 15 to 20 minutes. Carefully remove skillet lid and stir in basil; cook for 1 to 2 minutes. Meanwhile, in a cup, combine cornstarch and water; stir into sauce and cook just until thickened. Serve immediately.
I adore cherries and one of my favorite ways to enjoy them is turning them into epic smoothies! Here's my favorite Chocolate Cherry Smoothie recipe!