My garden went bonkers last year, especially in the tomato department. I've made salsas, sauces, sliced them, diced them, and cooked with them every which way you could possibly think of.
But the one thing I didn't do with them was juice them. Until the idea of the ultimate Bloody Mary came to me…fresh tomato juice, I mean just juiced tomato juice. Can you imagine?
Using my very favorite juicer, the Breville Fountain, (and if you didn't know already, Williams-Sonoma is the place to find this fine appliance), I began juicing the tomatoes. This particular Breville Fountain has a dial on it so you can bring down the speed on the juicer, so for soft fruits like tomatoes, I dialed it down to a 1. Perfect.
I added some jalapenos from my garden as well. Then the lime went in. With everything juiced, it was time to season it up!
Horseradish, Himalayan pink salt, celery salt, freshly ground smoked pepper, a little Worcestershire, garlic, and onion powder…then add a fresh sprig of rosemary, speared with olives and cocktail onions, a crisp piece of bacon, and of course, the mandatory celery stalk and voila, the Ultimate Bloody Mary!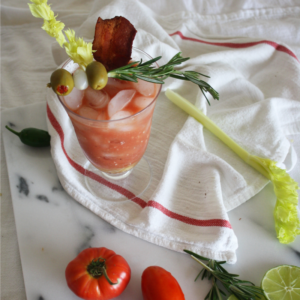 Freshly Juiced Jalapeño Bloody Mary
Ingredients
1

cup

fresh juiced tomato juice

1

fresh jalapeño

deseeded and deribbed

1/2

small

lime

peeled

dash

pink Himalayan salt

dash

celery salt

2

twists

fresh ground pepper

I used smoked black pepper

1/4

teaspoon

garlic powder

1/4

teaspoon

onion powder

1/2

teaspoon

prepared horseradish

1-2

ounces

premium vodka
Instructions
In a shaker, mix together well all ingredients except the garnishes. Pour into a tall ice filled glass, garnish as you like and enjoy!
Notes
Garnishes (as many as you like): celery stalk with leaves, crisp bacon, rosemary stalk, olives, cocktail onions