There's an excellent chance that your refrigerator contains a bottle of Worcestershire (pronounced wooster-sheer) sauce. This common (and commonly mispronounced) fermented condiment adds flavor to all kinds of dishes, from shrimp and chicken to burgers and chili.
Worcestershire sauce contains some surprising items in its list of ingredients, including anchovies, molasses, chili pepper extract, and cloves. Those ingredients, however, not only lead to a unique deliciousness, but they also contain Vitamin B6 and Vitamin E, which help to keep your body healthy (especially your immune system and your skin).
This dark brown liquid is great added to a Bloody Mary, Caesar salad dressing or even Bolognese sauce.
Now, it's time for your Trick:
If you're new to this rich-tasting condiment, add it to your sauces towards the end of cooking time. And remember that a little Worcestershire goes a long way, so if you're new to the flavor of it, start with a teaspoon at a time and taste as you go.
Your Tip:
Check for gluten-free/sugar-free Worcestershire sauces when you're at the market.
And your Recipe: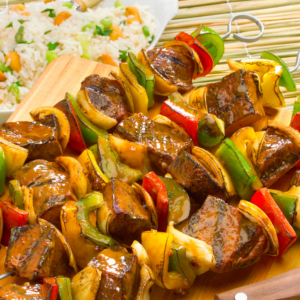 Steak & Veggie Kabobs
Ingredients
2

tablespoons

balsamic vinegar

1/4

cup

olive oil

1/2

teaspoon

sea salt

1/4

teaspoon

dried oregano

1/8

teaspoon

freshly ground black pepper

1

tablespoon

Worcestershire sauce

1/4

cup

chopped onion

2

cloves

garlic

minced or pressed

1 1/2

pounds

beef sirloin steak

cut into 1-inch cubes (trimmed of fat)

1

medium

green bell pepper

seeded, deribbed and cut into 1-inch squares

1

medium

red bell pepper

seeded, deribbed and cut into 1-inch squares

1

medium

yellow bell pepper

seeded, deribbed, and cut into 1-inch squares

1

large

red onion

peeled and cut into eighths

8

mushrooms

8

cherry tomatoes
Instructions
In a large bowl, whisk together first 8 ingredients (vinegar through garlic); add steak and turn to coat; cover and refrigerate overnight.

Preheat indoor or outdoor grill to MEDIUM-HIGH.

Alternately thread cubes of meat and vegetables on skewers; grill, turning often, until meat is cooked to desired level of doneness.
Looking for more delicious recipes like this one? Check out our Dinner Answers program today!