With the paleo diet gaining a lot of traction in the US, I've been getting more and more questions about ghee. For those of you unfamiliar with this product, ghee is basically butter with its milk solids removed.
Like butter, ghee is made from the fats of whole milk. Buffalo milk is often used in the making of Indian ghee.
So if ghee is basically the same as butter, what's all the fuss?
Well, folks, I'm so glad you asked!
Ghee vs. Butter
Smoking point. Ghee has a higher smoke point than butter. The point when oil starts to smoke isn't only stinky, but it's when fat reaches these high temperatures that its compounds can be damaged. This matters because heating fats above their smoking point is not good for our health. Ghee has a smoking point of 400-500 degrees, whereas butter begins to smoke somewhere between 325 and 375. When you're doing a lot of cooking at high heat, ghee is a much better option than butter.
Taste. While butter is a delicious fat, ghee tends to have a deep, nutty taste that is very satisfying. If you make your own, you'll end up with a house that smells like freshly baked croissants, which, as far as I'm concerned, is another bonus!
So, if you're looking for a tasty topping for sweet potatoes or a fat with a nice flavor profile to sauté your vegetables in, reach for the ghee! You can buy it at any Indian market, and more and more supermarkets are carrying it now, too (hint: look in the international aisle).
Here's your Trick:
Since there are no milk solids left in ghee, it will last for a very long time. You can store it at room temperature, but to prolong its life (for months and months, if you can go that long without using it!), store it in the refrigerator.
And your Tip:
If you're going to make your own ghee, make it with organic, grass-fed, unsalted butter.
And your Recipe: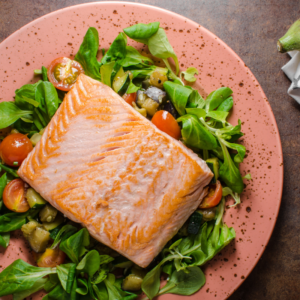 Citrus Dill Salmon Salad
Ingredients
1 1/2

pounds

skinless salmon

cut into 4 fillets

2

tablespoons

ghee

melted

1

tablespoon

lemon juice

Sea salt and freshly ground black pepper

to taste

1

head

Romaine lettuce

or other leaf lettuce

1

small

red onion

sliced

1

small

cucumber

sliced

1

cup

halved cherry tomatoes

1/4

cup

olive oil

2

tablespoons

cider vinegar

1/2

teaspoon

dried dill

Pinch

onion powder

Pinch

sea salt

1

clove

garlic

pressed
Instructions
Preheat oven to 350 degrees. Rinse salmon and pat dry. In a small bowl, combine ghee and lemon juice then brush evenly over salmon; season with salt and pepper. Bake for 6 to 10 minutes or until fish flakes easily when tested with a fork. In a large bowl, toss together lettuce, onion, cucumber and cherry tomatoes. In a small bowl, whisk together remaining ingredients (olive oil through garlic). Arrange salad on dinner plates and top with a salmon fillet; drizzle with vinaigrette.
Notes
SERVING SUGGESTION: A relish tray of raw baby carrots, broccoli and cauliflower florets and green and red bell pepper strips.
PS–You can receive delicious menus (complete with shopping lists!) like this delivered right to your email inbox by subscribing to Dinner Answers today!