I love the tang of a ripe, juicy grapefruit. Whether it's sectioned and eaten with a spoon, tossed in a salad or peeled and thrown into my juicer, grapefruit makes an appearance on my table a couple times each week.
Grapefruit is one of those fruits that's in season when not much else is – from winter through early spring.
Warning: If you're taking pharmaceutical drugs, you can click away from this page until you talk to your pharmacist. There are compounds in grapefruit juice that interfere with certain drugs. On the flip side, there are other drugs that are enhanced by certain compounds in grapefruit. Now, I'm not going to get into which ones may or may not be affected because that's setting me up for a liability issue! Do your research and if you're good to go, then here are some quite interesting things about grapefruit.
Varieties of grapefruit Grapefruits are categorized by their flesh color, as pink, ruby or white (blond).
Health benefits of grapefruit Grapefruit is full of fiber, potassium, vitamin B1, vitamin B5, vitamin A and vitamin C. This slightly bitter citrus fruit also contains powerful phytochemicals lycopene and liminoids. Grapefruits may help prevent kidney stones, they can lower cholesterol and they can even prevent against colon cancer. All this goodness with a hint of sweet, to boot!
Now it's time for your Trick:
When shopping for grapefruit, choose unblemished fruit that feels heavy for its size. Store it on the counter at room temperature if you'll be enjoying it within a few days.
And your Tip:
Even though you're not eating its peel, you should always rinse grapefruit under clean water before cutting into it. Cutting into fruit that hasn't been washed can transfer dirt, chemicals and bacteria from the surface of the peel to the part you're about to eat.
And your Recipe: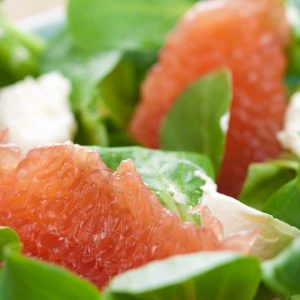 Turkey Citrus Salad with Poppy Seed Dressing
Ingredients
6

cups

baby spinach leaves

2

cups

chopped boneless skinless turkey breast meat

cooked

2

cups

fresh orange sections

drained (juice reserved)

3

cups

fresh grapefruit sections

drained (juice reserved)

1

teaspoon

honey

preferably local

1/2

teaspoon

dry mustard

1/2

teaspoon

paprika

1/4

teaspoon

garlic powder

1/2

teaspoon

poppy seeds

1

dash

ground ginger

1/4

cup

low fat mayonnaise
Instructions
Portion spinach leaves evenly on dinner plates.

Alternately arrange orange and grapefruit sections, in a wagon-wheel fashion, on top of spinach.

Place 1/2 cup of chopped turkey in the center of each fruit wheel.
Prepare dressing:
In a small bowl, combine reserved orange juice with enough of the grapefruit juice to equal 1/4 cup.

Add remaining ingredients and blend thoroughly.

Pour equally over each salad.
Notes
NUTRITION per serving: 288 Calories; 5g Fat; 32g Protein; 29g Carbohydrate; 5g Dietary Fiber; 78mg Cholesterol; 164mg Sodium. Exchanges: 0 Grain(Starch); 3 1/2 Lean Meat; 1/2 Vegetable; 1 1/2 Fruit; 1 Fat; 0 Other Carbohydrates. Points: 7
Looking for more delicious recipes like this one? Check out our Dinner Answers program today!