Such a pretty addition to a gourmet salad, lovely, lacy frisee lettuce is more than just a pretty face! Frisee (pronounced free-zay) is rich in fiber, vitamins A, B, C, and E.
Ever wonder why there are so few of those frizzy leaves of pale green that you see in salad mixes? Well, it's because frisee lettuce is a very laborious green that is quite expensive to produce commercially. You'll rarely see it as a sole salad ingredient for that reason. Also, the flavor of frisee is quite strong and rather bitter as far as greens go, so a tiny bit can go quite a long way – you might not want to eat an entire raw salad made with frisee.
Sauteeing or wilting your frisee will help to take some of the bitter taste out of this pretty vegetable. Try it wilted and topped with goat cheese and toasted walnuts or topped with bacon and a poached egg for a grain-free eggs benedict! Wilted frisee is also lovely served with red meat. Remember to always tear frisee into pieces rather than using a knife.
Now that I have you dreaming up a salad for dinner, it's time for Your Trick!
Limp frisee can be revived by sticking it into lukewarm water followed by a plunge into ice water. You'll literally shock it back to life.
Your Tip:
Tight packaging will cause your frisee to rot in the fridge. Give it some breathing room and use it within a couple of days of purchase.
And your Recipe: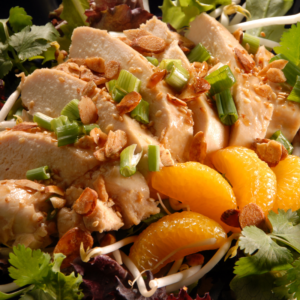 Mandarin Orange Teriyaki Chicken Salad
Ingredients
3/4

pound

boneless skinless chicken breast meat

cubed

1/4

cup

low sodium teriyaki sauce

Non-aerosol cooking spray

7 1/2

cups

torn mixed salad greens

1/2

cup

torn Frisee

1

can

Mandarin orange sections

drained, 11-oz.

1

medium

carrot

shredded

1/4

cup

slivered almonds

toasted

3

tablespoons

sliced green onion

2

tablespoons

apple cider vinegar

2

tablespoons

olive oil

1

tablespoon

low sodium soy sauce

2

teaspoons

sugar

1/2

teaspoon

ground ginger

1/4

teaspoon

salt

1/4

teaspoon

black pepper
Instructions
In a large zipper-topped plastic bag, combine chicken and teriyaki sauce; seal bag and turn to coat; refrigerate for 1 to 2 hours.

Drain and discard marinade.

Coat a large non-stick skillet with cooking spray; add chicken; cook and stir for 5 to 7 minutes or until no longer pink; transfer to a bowl; cover and refrigerate until chilled.

In a large bowl, combine salad greens, frisee, chicken, oranges, carrot, almonds and green onion.

In a jar with a tight-fitting lid, combine remaining ingredients; shake well and drizzle over the salad; toss gently to coat.
Notes
NUTRITION per serving: 299 Calories; 13g Fat; 25g Protein; 22g Carbohydrate; 5g Dietary Fiber; 49mg Cholesterol; 1066mg Sodium. Exchanges: 0 Grain(Starch); 3 Lean Meat; 2 Vegetable; 1/2 Fruit; 2 Fat. Points: 6
Looking for more delicious recipes like this one? Check out our Dinner Answers program today!