I am always encouraging you, my dear readers, to incorporate omega-3 into your diet because of the countless benefits for your health. By now I'm sure you've ascertained that the best way to get your omega-3 fatty acids has everything to do with seafood. As a matter of fact, the top five highest in omega-3 among seafood are salmon, sardines, halibut, shrimp, and snapper.
But what if you're not a fish lover or you have an allergy or food sensitivity to seafood? Don't worry, seafood isn't the only source of omega-3. In fact, flaxseed has an even higher concentration of omega-3 than fish! If you incorporate some flaxseed into your breakfast smoothie every morning, you'll be getting in a decent dose of omega-3. And to up the ante a little, try snacking on some walnuts. I love walnuts and feta in my tossed green salad; great combo!
Omega-3 fatty acids help your brain function, decrease your risk of heart attack and stroke, and may help with depression. There is ample evidence that shows how critical this EFA is in your diet. One word of caution when choosing fish–make SURE you always buy wild fish and not farmed. Farmed fish doesn't have nearly the omega-3's as wild, plus wild is way better tasting!
Here's a little recipe involving one of my favorite fish: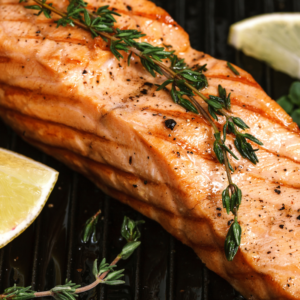 Some Summer Salmon
Ingredients
4

6-oz.

salmon filets

3

cloves

garlic

crushed

1

tablespoon

dry basil

1

teaspoon

sea salt

Freshly ground pepper

to taste

3

tablespoons

coconut oil

1/2

lemon
Instructions
Mix the basil, salt, and pepper together and rub on both sides of each filet. Add the coconut oil to a skillet over medium heat, and then add the crushed garlic. All that's left is to add the salmon and cook till slightly browned and flaky. About 3-5 minutes on each side. Squeeze the lemon over the filets after cooking and serve a bed of wild rice with some fresh basil to garnish! If you can't get fresh wild fish, buy frozen wild fish. It's often "fresher" as it was frozen within hours of being caught!