There's nothing quite like a fresh fig, but they're not easy to find this time of year. Luckily, dried figs are readily available and almost as tasty as the right-off-the-ficus-tree form of the fruit.
Ancient writings mention figs being harvested way back in the 9th century B.C., where, in Greece, figs were a staple. The Greeks loved these sweet fruits so much that there were actual laws that forbade people from exporting high-quality figs!
I certainly am glad that these delectable fruits eventually made their way to the western hemisphere! Delicious on oatmeal, figs can perk up your breakfast. On greens with goat cheese and almonds, figs can brighten up a salad. And poached in wine, figs have a place on the dessert menu as well.
Figs are high in potassium, Vitamin B6, manganese, and dietary fiber. They can lower blood pressure, help protect against breast cancer and macular degeneration, as well as promoting bone density. Fig leaves have been shown to inhibit the growth of different types of cancer cells and they've been shown to lower the amount of insulin needed by diabetics!
Now that we've established that figs are, indeed, a healthy treat, it's time for your trick, tip, and your recipe!
Here's your Trick:
Keep ripe figs in the fridge on a paper towel-lined plate. Do not cover them or they will dry out. If you've purchased under-ripe figs, store them on a plate at room temperature, and don't set them in direct light.
And your Tip:
Fresh figs are extremely perishable, so buy them the day before you need them at the earliest. Choose figs that are free of bruises, plump, and that smell mildly sweet. When shopping for dried figs, make sure they're soft and watch out for mold. You don't want that!
And your Recipe: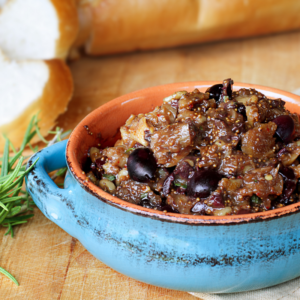 Fig and Olive Tapenade
Ingredients
1

cup

chopped dried figs

1/2

cup

water

1

tablespoon

olive oil

2

tablespoons

balsamic vinegar

1

teaspoon

dried rosemary

1

teaspoon

dried thyme

1/4

teaspoon

cayenne pepper

2/3

cup

chopped kalamata olives

2

cloves

garlic

pressed

Sea salt and freshly ground black pepper

to taste

1/3

cup

chopped toasted walnuts

1

8-oz. package

cream cheese
Instructions
Combine figs and water in a saucepan over medium heat. Bring to a boil, cook until tender, and liquid has reduced. Remove from heat. Stir in the olive oil, balsamic vinegar, rosemary, thyme, and cayenne. Add olives and garlic, and mix well. Season with salt and pepper to taste. Cover, and refrigerate for 4 hours or overnight to allow flavors to blend.
Notes
Serving suggestion: Spoon tapenade over a block of cream cheese and sprinkle with walnuts.
PS–You can receive delicious menus (complete with shopping lists!) like this delivered right to your email inbox by subscribing to Dinner Answers today!