I love me some delicious, nutritious fresh sliced zucchini in a stir fry, but when winter squash season comes upon us in the fall, I tend to reach for butternut in favor of the milder flavored summer squashes.
Like zucchini, pumpkin, cucumber, and melon, butternut squash is a member of the gourd family. You may not think of butternut squash as a fruit, but if it has seeds…guess what? It's a fruit!
Butternut squash has a gorgeous orange color that tells us it is jam-packed with carotenoids. These little jewels of the nutrient world are converted to Vitamin A in our bodies. They protect us against heart disease, breast cancer, and macular degeneration.
Butternut squash is full of fiber, potassium, Vitamin B6, Vitamin C, and folate. This combination gives us a powerful punch in terms of our bone health, heart health, and immune and nervous systems. There's enough Vitamin C in a cup of butternut squash to give you half of your recommended daily dose of this powerful nutrient!
Because butternut squash is so high on the antioxidant scale, scientists believe that eating it could very well have anti-inflammatory effects on our bodies. If you have asthma or arthritis, get yourself some butternut squash! STAT!
Oh did I forget to mention that this fruit (I know, it's hard to believe it's a fruit, but it is, I swear!) is low in calories and fat and it tastes absolutely delicious? It can be roasted and served as a side dish or in a salad, it can be steamed and pureed into a soup, or it can be served mashed in place of starchy (boring) white potatoes.
That's the nutritional overview in a (butter)nut shell, so now let's get on with your tip, trick, and your recipe!
First your Trick:
Has peeling a butternut squash ever made you cry? Either because of how difficult a task it is, or because you slipped with the paring knife? (ouch!) Well, do yourself a favor and slice that sucker in half, lengthways, and put each half – cut side down – on a parchment-lined cookie sheet and let it roast for an hour. You'll be able to scoop it right out of its skin.
And your Tip:
Store your butternut squash for up to three months in a cool, dry place. But if you've cut into it, you only want to keep that guy around in the fridge for a week, max.
And your Recipe: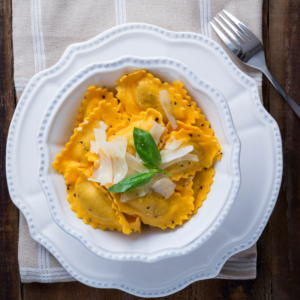 Butternut Ravioli Stew (From Saving Dinner)
Ingredients
2

tablespoons

butter

2

cups

chopped onion

3

pounds

butternut squash

stab, microwave to soften, then peel, deseed and cube

1/2

cup

white wine

optional, or use vegetable broth

3

cans

vegetable broth

1

pinch

nutmeg

1

pinch

cinnamon

1

pinch

ginger

1

pound

ravioli

cheese-filled, frozen

3/4

cup

Neufchatel cheese

or low fat cream cheese

3/4

cup

half and half

Salt and pepper

to taste
Instructions
In a soup pot, heat butter over medium-high heat. When hot and melted, add onions and sauté till translucent. Add the squash, wine, and vegetable broth. Add the spices. Reduce heat and simmer for 10 minutes. Meanwhile, bring a pot of water to boil and cook ravioli according to package directions. Drain and set aside. In a blender, blend HALF the stew and all of the Neufchatel cheese to a smooth consistency, then add back to the stew. Now add ravioli and carefully incorporate. Add half and half, heat till almost a simmer, correct seasoning if necessary and serve.
PS–You can receive delicious menus (complete with shopping lists!) like this delivered right to your email inbox by subscribing to Dinner Answers today!