It's amazing how by simply mashing up some apple, you end up with this completely amazing ingredient/condiment/snack.
Applesauce is easy to make, tastes delicious, and is completely versatile.
There are many different ways to make applesauce, and you can make it as complicated or as uncomplicated as you like.
You can simply put apples that are cored, peeled, and chopped in a freezer bag with some cinnamon and pop it in the freezer. After it thaws when you take it out, you have applesauce!
Or you can put chopped apples in the slow cooker with some cinnamon, and, after heating on low for a few hours, ta-da! More applesauce!
Finally, you can peel and chop apples into a pot and heat on the stovetop (again with some cinnamon), and you have applesauce.
Enjoy applesauce as a snack or served with some cooked pork. Applesauce is also great stirred into oatmeal.
Now that we've given you a couple of ideas for making this wonderful condiment and how to use it,
Here's your Trick:
Substitute applesauce for oil in baked goods for a healthy alternative to vegetable oils. Use a 1:1 swap and just add a couple of tablespoons of healthy oil like melted coconut oil.
Your Tip:
Apples are at the top of the EWG.org Dirty Dozen list. That means that conventionally grown apples are heavily sprayed with pesticides. I only buy apples when I can get them organic. It's best to only use organic apples in your adventures in applesauce making.
And Your Recipe: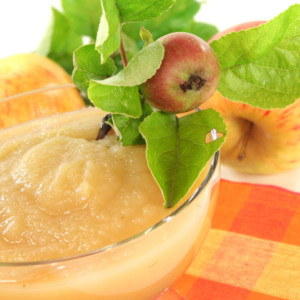 Slow Cooker Applesauce
Ingredients
3

pounds

apples

peeled and quartered

1

cinnamon stick

or 1 1/2 teaspoons ground
Instructions
In a crockpot, place prepared apples and cook on high for about 3 hours, or until fork tender.

Serve in bowls warm.

For an extra special touch, put about a half teaspoon of butter on top and sprinkle with a little bit of sucanat or brown sugar (just a little!).
Here is a BONUS recipe for ornaments with applesauce as a main ingredient 🙂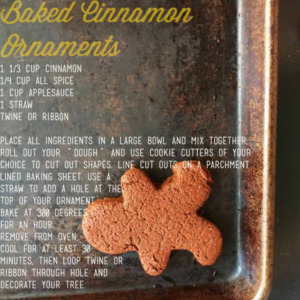 Baked Cinnamon Ornaments
Ingredients
1 1/3

cup

cinnamon

1/4

cup

allspice

1

cup

applesauce

1

straw

twine or ribbon
Instructions
Place all ingredients in a large bowl and mix together. Roll out your "dough" and use cookie cutters of your choice to cut out shapes. Line cut-outs on a parchment-lined baking sheet. Use a straw to add a hole at the top of your ornament. Bake at 300 degrees for an hour. Remove from oven. Cool for at least 30 minutes. Loop twine or ribbon through the hole and decorate your tree with some great-smelling ornaments!