Do you ever enjoy this ocean predator? Because I think that Mahi Mahi deserves a place in your kitchen on a regular basis.
Also known as dolphinfish (but it's not a dolphin, don't worry!) this mild, sweet fish has a very firm flesh that makes cooking it an absolute breeze. Whether you bake it, fry it, grill it or poach it, Mahi Mahi makes a fantastic meal.
It's not only delicious, but Mahi Mahi is good for us, too.
Health benefits of mahi mahi
Mahi Mahi is full of nutritional benefits including:
• Protein. Mahi Mahi is an excellent source of protein with about 37 grams per serving. To put that in perspective, a serving of steak contains roughly 42 grams of protein.
• Minerals. Mahi Mahi contains significant amounts of the tough-to-get mineral, selenium. It also provides you with magnesium, iron, phosphorus and potassium.
• Vitamins. You can get almost all of your daily required amount of niacin from a serving of Mahi Mahi. That serving of fish also gives you lots of vitamin B12 and vitamin B-6.
• Omega-3. While it doesn't contain as many omega-3 fatty acids as other fish, Mahi Mahi does still contain some. For comparison, a serving of salmon contains 2 or 3 grams of omega-3 fatty acids while a serving of Mahi Mahi delivers only .24 grams.
Sustainable seafood option
Mahi Mahi is a delicious and sustainable seafood option. It's considered an ocean-friendly choice because it is a very fast-growing fish and the methods used to catch Mahi Mahi don't damage the habitat of other fish. Always look for US-caught Mahi Mahi, but rest assured that you're making a good choice for Mother Earth by choosing this fish.
Shopping tip
When shopping for Mahi Mahi, look for fish with pinkish flesh and bright skin.
And here is a delicious recipe for you to try!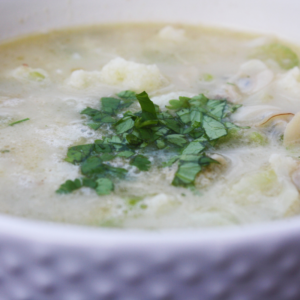 Hearty Seafood Chowder
Ingredients
2

tablespoons

coconut oil

2

large

shallots

chopped

1

clove

garlic

minced

2

large

stalks celery

chopped

3

cups

cauliflower florets

Sea salt and freshly ground black pepper

to taste

2

tablespoons

arrowroot flour

4

cups

full fat

unsweetened coconut milk

1/2

pound

firm fleshed white fish

cubed

1/2

pound

raw clams

2

cups

low sodium chicken broth

¼

cup

chopped parsley
Instructions
In a large pot, heat the coconut oil. To the oil, add the shallots and garlic. Cook for 5 minutes, until the veggies start to soften.

To the veggie mixture, add the remaining ingredients and stir. Cover pot and reduce heat to low. Simmer for 35 minutes, until the seafood is cooked through and vegetables are tender. Serve warm.
PS–For more delicious recipes like this to support your health, check out Dinner Answers today!