Bok choy is one of my favorite vegetables. Like cauliflower, broccoli and brussels sprouts, this mild Chinese cabbage is a cruciferous vegetable. Very common in Asian cuisine, you rarely see this delicious cabbage in other types of ethnic cooking, despite the fact that it's grown in the United States, Canada and Europe.
Bok choy has a very delicate, slightly sweet taste and a satisfying crisp texture. It also happens to be one of the most nutrient-dense foods in the world. There is nutritional goodness in both the leaves and the stalks of this plant. Of the twenty or so different varieties of bok choy, we most often see two here in the States: traditional bok choy and "Shanghai" or baby bok choy (my favorite!).
You may have walked by bok choy in the grocery store without paying much attention to it. It really looks like all those other leafy green things! Bok choy is sold in "heads" like lettuce is and it has white stalks and dark green leaves (In Chinese, bok choy translates as "white vegetable").
Let's take a look at the benefits we can gain by adding bok choy to our diets:
Vitamins. Bok choy is chock full of vitamins. You'll get lots of vitamin A, C and K with a serving of bok choy. One cup of this veggie actually gives us around half of our daily recommended dose of each of these vitamins with some folate and B6 thrown in for good measure.
Antioxidants. We know that cruciferous veggies are a great form of cancer protection. Bok choy has been found to contain 28 different antioxidant phytochemicals, the most abundant one-kaempferol-having some amazing cancer prevention properties.
Calcium. You hear me go on and on about how you don't have to worry about getting enough calcium if you eat your green veggies. I mean it! Bok choy is high in calcium, and its calcium is absorbed better than the calcium found in other leafy greens. That's because bok choy is quite low in oxalate, a substance that actually prevents calcium from being absorbed in the body. The human body can absorb an astonishing 54% of bok choy's calcium. For comparison, we can absorb 5% of the calcium in spinach and 32% of the calcium found in milk.
To get the most nutrition out of your bok choy, chop it up before cooking or eating it. I know you're not likely to chomp onto a head of bok choy, but really give those leaves and stalk a good chop to help release the antioxidants.
There are certain enzymes in bok choy that are best for us when the vegetable is eaten raw, and there are others that will be absorbed better when the bok choy is steamed and served with some fat. My best advice would be to serve this veggie a couple times a week-once in a raw salad and once in a stirfry or by featuring the bok choy in a side dish of its own!
How do you like to eat bok choy? Try the recipe below and let me know what you think. http://www.facebook.com/savingdinner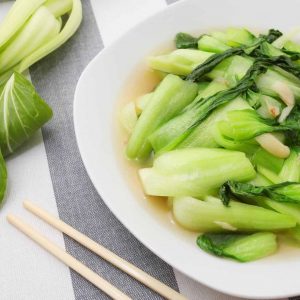 Bok Choy Stir Fry
Ingredients
3

tablespoons

olive oil

2

cloves

garlic

pressed

2

teaspoons

freshly grated ginger

1/2

teaspoon

crushed red bell pepper

2

pounds

baby bok choy

cleaned and cut into bite size pieces

1/3

cup

vegetable broth

(low sodium if available)

3

tablespoons

low sodium soy sauce

1 1/2

teaspoons

sugar

1

teaspoon

cornstarch

2

teaspoons

sesame seeds

6

cups

cooked brown rice
Instructions
In a large skillet, heat oil over medium-high heat and swirl to coat pan.

Add garlic, ginger, and crushed red bell pepper cooking for about 30 seconds.

Add the bok choy and cook for 3 minutes, stirring often.

Stir in the broth, soy sauce, sugar, and cornstarch and bring to a boil, stirring constantly.

Cook until thickened, about 1 minute.

Remove from heat and sprinkle with sesame seeds.
Notes
Serve over brown rice.
Per Serving: 317 Calories; 9g Fat; 8g Protein; 52g Carbohydrate; 5g Dietary Fiber; 0mg Cholesterol; 429mg Sodium. Exchanges: 3 Grain (Starch); 0 Lean Meat; 1 Vegetable; 1 1/2 Fat; 0 Other Carbohydrates.
SERVING SUGGESTION: Serve with steamed artichokes, some mayo for dipping, and some baby carrots for the table.