One thing I've learned over the last several years in the battle of the bulge, is that my morning smoothie is my own personal guarantee for a great food day, one with no regrets.
Let me explain.
My morning smoothie isn't just a bunch of fruit and some random protein powder in a glass. It is an on-purpose, nutritionally bursting at the seams, meal in a glass that covers all my bases: adequate protein, fiber and fat.
Those 3 things: protein, fiber and fat are the key to being satiated, happy and well-fueled for the morning.
It's a habit that keeps me on track.
It's a habit that keeps my weight steady.
It's a habit that helps me stay in control of my appetite.
And starting the day with the smart habit of drinking a nutritionally packed smoothie (like mine) sets the day up for other good decisions.
It's about 40 days since everyone made their New Year's resolutions to lose weight—how's it going for you?
If you're off track, need help and especially, if you need a touch of self-control to make that resolution a reality, then here's your ticket: get a smoothie habit started and keep it GOING!
Now you know my secret. 😉
Here is one of my favorite smoothie recipes—I KNOW you'll love it too!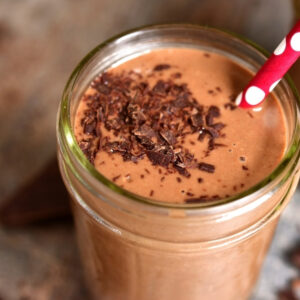 Keep Me Full Smoothie Recipe
Instructions
Put everything into the blender and let it rip! HINT: start with half the water, add the rest of the ingredients, water on top and it will blend better!

Enjoy—this smoothie keeps me full for 4-5 hours!!