Some veggies seem to have it all; good looks, good taste, simple means of preparation, and good nutrition. For instance, while an artichoke is quite interesting to look at, quite nutritious, and yummy, you really can't get into one of those things without some work.
Green beans on the other hand, well, are an excellent go-to vegetable. And they're pretty enough to make a common dinner plate look gourmet.
This crunchy, bright green veggie is in season during the summer, but it's easy to find year-round.
Also known as snap beans or string beans, emerald-colored green beans are roughly four inches long with a pointed end. While deliciously crunchy eaten raw, it takes hardly any time at all to cook up a serving of green beans for dinner. They're especially good with fish or poultry.
Green beans make a great portable snack for kids because the entire vegetable is edible, they're easy to toss into a container or plastic bag, and they're fun to eat. Add some interest to your next vegetable tray by adding in some gorgeous green beans!
And these darlings of the summer garden have much more going for them than looks alone! Green beans are an excellent source of antioxidants including beta-carotene, zeaxanthin, and lutein. Green beans are high in vitamin A, vitamin C, folate, potassium, manganese, and fiber.
Now that you've added green beans to your shopping list…
Let's take a look at your Trick!
When shopping for green beans, to make sure they're fresh, snap one in half. If it breaks when bent, the bean is fresh. If it bends along with you, it's old!
And your Tip:
Don't boil green beans for more than seven minutes or they will turn a brownish color on you. Four or five minutes in the boiling water should be enough to cook fresh young green beans.
And your Recipe: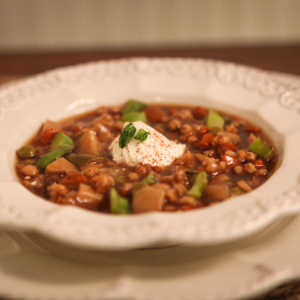 Crock Beef and Vegetable Soup
Ingredients
4

medium

carrots

sliced

2 1/2

pounds

lean beef stew meat

1 1/2

cups

water

2

tablespoons

olive oil

Salt and pepper

to taste

3/4

cup

chopped green bell pepper

seeded and deribbed

1

teaspoon

thyme

2

14.5-oz. cans

beef broth

1 1/2

cups

fresh green beans

cut into 1-inch pieces

2

14.5-oz. cans

diced tomatoes with garlic

undrained

1

cup

chopped onion

1

8-oz. can

tomato sauce
Instructions
In a skillet, heat olive oil over medium-high heat; brown the beef and salt and pepper to taste; transfer to a slow cooker.

Add the water the skillet and scrape up all of the browned bits from the bottom of the pan; add this liquid to the slow cooker.

Add remaining ingredients to slow cooker; cover and cook on low heat setting for 8 to 9 hours, or on high setting for 4 to 5 hours, until veggies are tender.
Notes
Freeze leftovers for a yummy quick fix on a busy night.
PS–You can receive delicious menus (complete with shopping lists!) like this delivered right to your email inbox by subscribing to Dinner Answers today!