Today I'm talking about one of my favorite vegetables-beautiful, tender asparagus.
Deliciously served with everything from pasta to steak, asparagus lends a bit of elegance to whatever meal you enjoy it with.
A member of the lily family, asparagus is a perennial garden plant. It can take several years to establish a good supply of asparagus in your garden, so you must be patient! It will be worth it when those spears finally do break through the earth and are ready to be harvested.
Asparagus is a great source of folate, vitamins K, B1, B2, B3, B6, A, E, and C, dietary fiber, protein, copper, and potassium. Asparagus helps regulate blood sugar, has anti-oxidant and anti-inflammatory properties and it may even prevent several types of cancer.
Good and good for you!
When you're selecting asparagus in the store, choose stalks that are rounded, not flat or twisted. They should be firm with closed purplish or dark green tips. One of the clean 15 (in 2012, anyway, this list often changes), if you can't find organic asparagus, the commercial variety isn't too bad (as long as you wash it well).
Now it's time for your Trick:
Just like you'd put fresh cut flowers in water, store your asparagus upright in a cup of water in the fridge, or with the ends wrapped in a damp paper towel. Remember, they're related to lilies! Eat your asparagus within a day or two of purchasing.
And your Tip:
Only cook asparagus until it's *just* cooked. I love to saute asparagus, which seems to give it a really great flavor while keeping as much nutritional integrity as possible.
And your Recipe: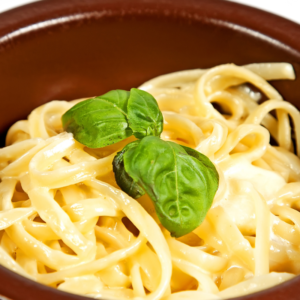 Asparagus Linguine
Ingredients
8

ounces

uncooked Linguine pasta

1

tablespoon

unsalted butter

1/3

cup

chopped onion

4

cloves

garlic

pressed

12

ounces

fresh asparagus

peeled and sliced diagonally into 1/2-inch pieces

3

tablespoons

dry white wine

OR low sodium vegetable broth

3

tablespoons

lemon juice

Black pepper

to taste

1/3

cup

grated Parmesan cheese

1

cup

shredded part-skim Mozzarella cheese
Instructions
Cook pasta according to package directions. In a large skillet, melt the butter over medium heat; add onion and garlic; cook and stir until onion is soft. Add asparagus; cook and stir for 2 minutes. Add wine (or broth) and lemon juice; cook for 1 minute. Season with pepper to taste. Remove from heat. In a large bowl, toss hot pasta, Parmesan cheese and asparagus mixture. Sprinkle with Mozzarella cheese before serving.
PS–You can receive delicious menus (complete with shopping lists!) like this delivered right to your email inbox by subscribing to Dinner Answers today!