There's nothing like a gorgeous purple beet sliced onto a salad, roasted in the oven, or juiced with some greens and other veggies to make a beautifully colored glass of deliciousness.
What's this you say? You don't love beets? Well, maybe you're just not doing it right!
Beets are in season now and they are one of those root veggies you should not be walking past without bagging up for dinner. Not only are beets delicious and beautiful, they are full of nutrients like magnesium, vitamin C, fiber, and folate.
As I mentioned, you can enjoy beets raw in juice or salads, or you can cook them in a variety of ways. Steam them, stir fry them or roast them and see how you enjoy them best. Don't forget to top them with butter or a squeeze of lemon juice and salt and pepper. Mmm, mmm!
Here is a helpful beet Trick:
That red beet juice can stain your skin and your clothes so be cautious of what you wear when you're handling beets. Wear gloves if you want to prevent skin stains. If you do happen to get some of the juice on your hands, lemon juice will help remove it.
Here is a Tip:
Beets are one of the crops in the US which are allowed to be genetically modified. For this reason, buy organic beets or look for the Non-GMO Project verified seal to avoid consuming GMOs.
And here is a delicious beet Recipe: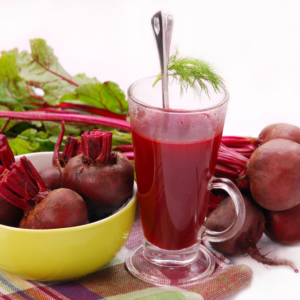 Sweet Beet and Spinach Juice
Ingredients
2

medium

red beets

2

medium

carrots

1

thick slice ginger

1/2

lemon

peeled, leaving pith

1/2

cucumber

1

cup

spinach

5

kale leaves

1

chard leaf

1/2

cup

parsley
Instructions
All ingredients are best organic. Wash and dry all ingredients, and run through the juicer one at a time. For smaller leaves, like parsley, bunch them together tightly to form a "solid" leaf vegetable for better juicing. Chill (if desired), stir, and enjoy!
For more delicious ways to use beets, subscribe to Dinner Answers today!