There is no actual butter in apple butter. Apple butter is a very concentrated type of apple sauce. It's made by the long, slow cooking of apples. You cook those apples down until they are caramelized and deep brown in color. If you like apple sauce, you'll love that apple butter has an even more concentrated flavor. And, the way that the sugar in the apples is concentrated through slow cooking makes apple butter preserve better than apple sauce.
It also so happens that apple butter is delicious.
Apple butter is great spread on toast or used as a sweetener in marinades and sauces. It makes a great sweetener in homemade ketchup!
And it just so happens, that you can easily make your own apple butter if you can't find apple butter in your grocery store.
Now for your Trick:
Make apple butter in your slow cooker! Simply put peeled, cored organic apples (I like Granny Smith and Honeycrisp) in the slow cooker with a pinch of cinnamon. Cook on low for 10 hours. At that time, stir in a spoonful of vanilla and break up any big chunks of apples. Cook for 2 more hours. When your apple butter is cooked down very well, puree until smooth. Your apple butter will store in jars in the fridge for 2 weeks or in the freezer for 2 months.
Your Tip:
Only buy organic apple butter because apples are high on the dirty dozen list!
And your Recipe: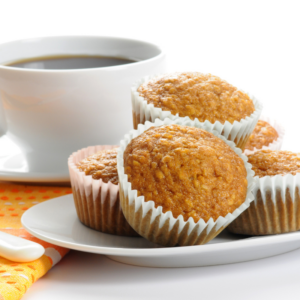 Apple Butter Muffins
Ingredients
1

cup

milk

1/2

cup

apple butter

2

eggs

1

cup

rolled oats

1

cup

whole wheat pastry flour

1/2

cup

raw sugar

or use brown sugar

1

teaspoon

baking powder

1

teaspoon

baking soda

1/2

teaspoon

sea salt

1/4

cup

raisins

optional

1

teaspoon

white sugar
Instructions
Preheat oven to 400 degrees.

In a medium bowl, whisk together milk, apple butter and eggs.

In a large bowl, combine dry ingredients (oats through salt); add milk mixture and stir until just combined.

Stir in raisins (if using).

Spoon mixture into greased or paper-lined muffin cups and sprinkle the tops with white sugar.

Bake for 20 to 25 minutes or until a toothpick inserted into the center of a muffin comes out clean.
Notes
Per Serving: 136 Calories; 2g Fat; 4g Protein; 26g Carbohydrate; 2g Dietary Fiber; 38mg Cholesterol; 248mg Sodium. Exchanges: 1/2 Grain(Starch); 0 Lean Meat; 0 Non-Fat Milk; 1/2 Fat; 1 Other Carbohydrates. Points: 4
For MORE delicious recipes subscribe to Dinner Answers today!