Hello hello! (Caroline speaking)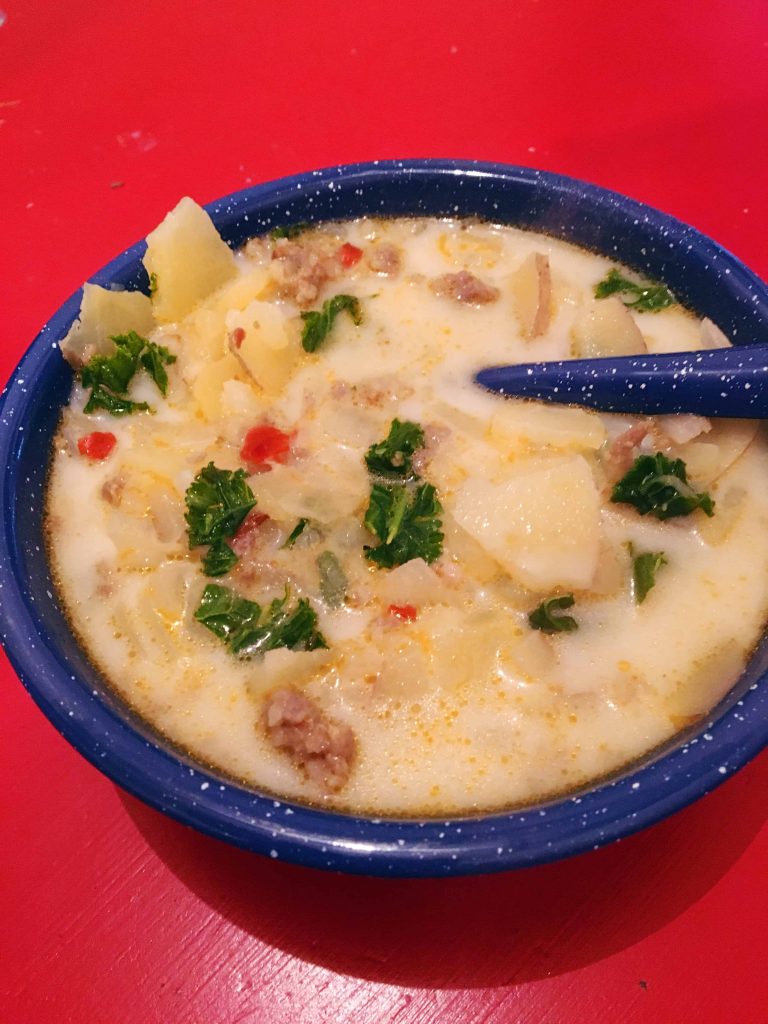 I asked our Facebook page a couple days ago if anyone would be interested in my Zuppa Toscana recipe, and there was a resounding "yes" – so here it is!
I like to call it "Off-The-Bus Zuppa Toscana" because (as some of you may know) myself, the hubs, and our two adorable husky pups, packed up in a little bus we call Henrietta and made an adventurous cross-country move! We found a dreamy little farm property to rent, but there were some kinks that needed to be fixed prior to us moving in, so our bus occupancy was extended another month (and then some).
While it was fun, and I love love love that we did it, I was ready for a house. Ready to settle in and have a real home again – kudos to those "van-lifers" out there, I just don't think I could do it full time! One of the first things I made once I was back in a real kitchen was a huge vat of hearty and delicious Zuppa Toscana. I love it because it's filling, and has potatoes, and a little cream, but it's mostly broth based so it's not too terribly rich (like a chowder would be).
Without further ado, here's my preferred recipe!
Off-The-Bus Zuppa Toscana // serves 4-6 (give or take leftovers, depending on how often the fam goes for seconds)
Ingredients:
1 tablespoon olive oil
1 pound spicy Italian sausage
1 large onion, chopped
2 pounds red potatoes, washed (peel off bruises or eyes, but I like leaving skin on for the most part) and sliced very thin
4 to 6 cups low sodium chicken broth (feel it out, it's all up to how brothy you like it)
1/2 teaspoon red pepper flakes
1/2 teaspoon garlic powder
sea salt and freshly ground black pepper to taste
1 1/2 cups half and half
3 cups kale, chopped
Instructions:
In a large soup pot or dutch oven, heat olive oil over medium high heat. Add sausage and use a potato masher to really ground it all up and cook evenly. Saute for 4 to 6 minutes, then drain any excess grease. Turn heat down to medium, add onion and cook for another 3 minutes, then add in potatoes, broth, and spices.
Bring to a boil, then cover and turn heat down to low and cook for 20 to 30 minutes (or until potatoes are fork tender). Stir in cream and kale, once kale has wilted some (just about 1 to 2 minutes) go ahead and serve!