For centuries, lemongrass has been used as an herb in kitchens across the world for its citrusy fragrance and flavor. Lemongrass lends a wonderful mild lemon taste to Pad Thai and other Asian dishes. It's fabulous in vegetable stocks and delightful in curry. But the kitchen isn't the only place where lemongrass is used.
If you've ever lit a citronella candle to battle the insects in your yard, you've met a close relative of lemongrass — citronella grass. Lemongrass shares these insect repellant properties of its cousin.
The essential oils found in the lemongrass plant are widely used in the cosmetic industry to add a citrusy scent to soaps, perfumes, and other beauty products.
The lemongrass plant also has a number of health benefits. In fact, since ancient times, lemongrass has been used to treat everything from acne and body odor to stomachaches and diarrhea.
Lemongrass has been found to contain a compound that kills cancer cells without harming healthy cells. It's great for the digestive system, helping to relieve cramps and gas. There are great detoxification properties in lemongrass, it can strengthen your nervous system and it can lower your blood pressure. A cup of lemongrass tea might also relieve menstrual cramps! Not bad for an herb that you can easily add to your diet.
I've had no trouble finding fresh lemongrass, but you might have to put some effort into finding it, depending on where you live. It's in the produce aisle of most major grocery stores and Asian markets. If you have trouble finding lemongrass, I suggest growing your own! Not only is it dead easy to do, but the lemongrass plant looks gorgeous growing in the garden. And remember, it will help keep some of those mosquitoes away.
Now it's time for your Trick!
You can use lemongrass much the way you would bay leaves — putting them into a pot of liquid and removing them after the flavor has been extracted. Tie some blades of lemongrass into a little bundle and crush the works a bit with a rolling pin to help loosen the oils. Put the bundle into boiling water and steep it for a nice soothing tea, or put the bundle into a pot of soup or stew, removing it before you serve.
And your Tip:
To add lemongrass to stir fry and other savory dishes, you'll have to remove the outer layer of the stalk, stopping when you've reached the tender part of the plant. Chop that part of the lemongrass stem finely and add it to any dish that could use some lemony tang.
And your Recipe: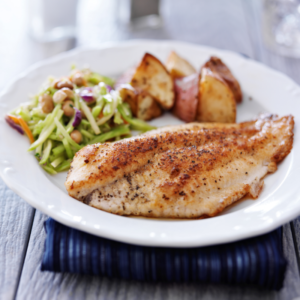 Thai Tilapia
Ingredients
1/2

cup

coconut milk

1

tablespoon

almond flour

1 1/2

tablespoons

chopped white onion

1

teaspoon

ground ginger

1/2

teaspoon

ground turmeric

1 1/2

teaspoon

chopped fresh lemon grass

1/2

teaspoon

minced garlic

1/4

teaspoon

salt

4

4-oz.

tilapia fillets

salt and pepper

to taste

1/2

teaspoon

red pepper flakes
Instructions
Combine the coconut milk, almond flour, onion, ginger, turmeric, lemon grass, garlic and 1/4 teaspoon of salt. Heat a large skillet over medium-high heat. Season tilapia fillets with salt and pepper on both sides and place skin-side up in the skillet. Pour the sauce over the fillets, spooning sauce over fillets until coated. Sprinkle with red pepper flakes. Reduce heat to medium, cover, and simmer for about 15 minutes, until sauce is thickened and fish flakes easily with a fork.
PS–You can receive delicious menus (complete with shopping lists!) like this delivered right to your email inbox by subscribing to Dinner Answers today!