One of the best parts of living a Paleo lifestyle is that you get to eat lots of bacon. Now, one misconception about Paleo eating is that all we do is eat bacon all day. Yes, we eat plenty of bacon, but we eat nitrate-free bacon sourced from local pastured pigs, and we eat it in moderation!
I love thickly sliced bacon, and it just keeps giving by providing me with lots of delicious bacon fat! If you've been throwing away your bacon fat, STOP! Bacon fat isn't the enemy. Much of the fat in bacon grease is monounsaturated fat, and a large part of that monounsaturated fat is oleic acid, that same fatty acid that makes olive oil a heart-healthy fat. Besides this fact, bacon fat makes food taste amazing.
Save your bacon drippings in a container in the fridge. Bacon fat lasts for months in the fridge, but I tend to go through it pretty quickly.
Now that we're all drooling for bacon, it's time for your Trick:
Some people strain the bacon bits out of the grease, but I like leaving those in. I scoop spoonfuls of bacon fat from that container in the refrigerator and use it for frying eggs, meat and veggies like Brussels sprouts. I even use it when making salad dressing.
Your Tip:
If you make your own Paleo mayonnaise, wait until you try making baconnaise! Mayonnaise is simply a blend of olive oil, egg and lemon. For bacon mayo, swap the olive oil with melted bacon fat at room temperature. This creamy spread is wonderful on burgers!
And your Recipe: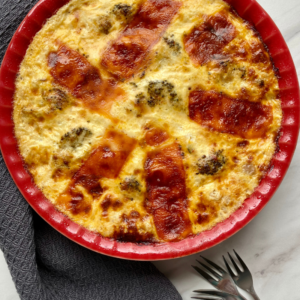 Spinach, Bacon and Mushroom Crustless Quiche
Ingredients
1/4

pound

bacon

cooked and crumbled

2

tablespoons

bacon fat

rendered from cooked bacon

1

clove

garlic

pressed

2

cups

chopped mixed mushrooms

1

pound

spinach

coarsely chopped, stems removed

10

organic cage-free eggs

1/2

teaspoon

sea salt

Freshly ground black pepper

to taste

1/4

cup

toasted pine nuts
Instructions
Preheat oven to 375 degrees.

Lightly oil a 9-inch pie plate and set aside.

Cook bacon in large skillet over medium-high heat.

Remove the fully cooked bacon, crumble and reserve for later.

Heat the remaining bacon fat in a large skillet over medium-high heat; Add garlic and mushrooms to the remaining bacon fat and cook until mushrooms are golden brown and soft.

Add the spinach and stir until wilted. Add crumbled, cooked bacon to the mixture. Transfer mixture to the prepared pie plate.

In a large bowl, beat the eggs, salt and pepper until frothy; pour mixture over mushroom mixture in the pie plate and sprinkle with pine nuts.

Bake for 35 to 40 minutes, until the top is puffy and brown. Cool slightly then cut into 8 wedges.

Serve warm or at room temperature.
If you've been considering a switch to a Paleo lifestyle, now's the perfect time to do so! Check out our Paleo Freezer Meal Collection!