by: Leanne Ely
Who says life isn't a picnic? It can be if you know how to pack it! And there is nothing better than a picnic al fresco on a lovely late summer day, just you, your spouse, and maybe a few little ones.
Keeping your picnic/outdoor dining safe is a concern: food poisoning isn't fun, so here are a few safety tips for packing it safe and healthy: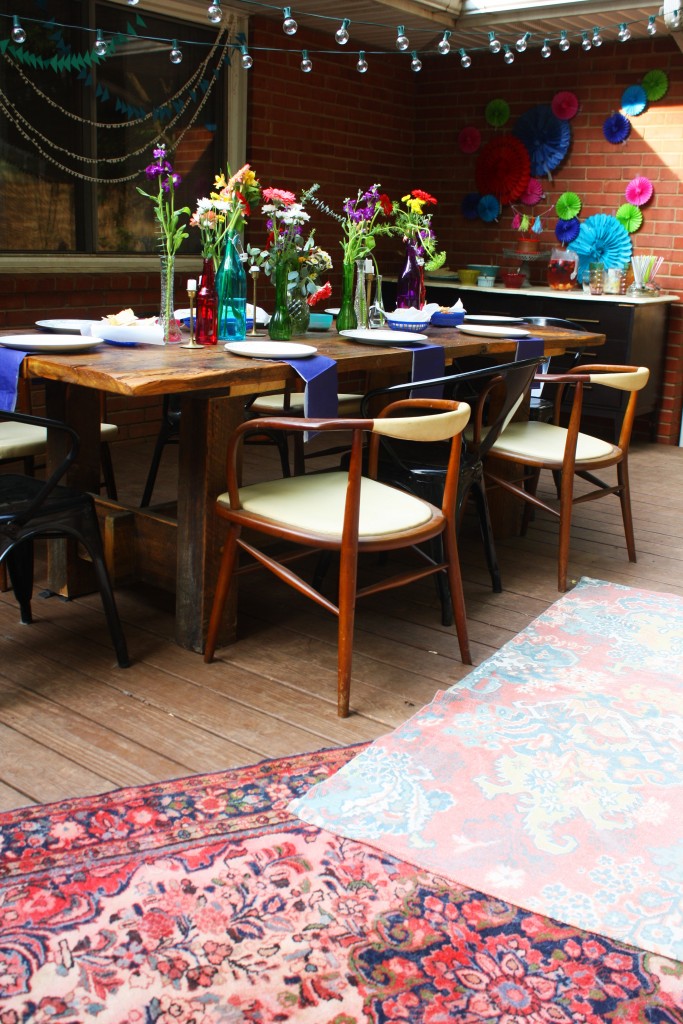 Not a Lot. In other words, don't pack with leftovers in mind. Pack what you need so you don't need to worry about the leftovers spoiling should you decide to have a long, lazy day. Or better yet, if you do make enough for leftovers, leave it at home in the fridge to have when you return.
Clean Scene. When you're preparing your picnic, make sure you wash your hands before you start preparing the food and keep your cutting boards separate. It might not be a bad idea for us to all be a little more kosher and keep separate cutting boards for meat and vegetables.
Chill Out. Remember that foods cooked ahead need to be cooked in plenty of time to get thoroughly chilled in the refrigerator (so do the cooked stuff the night before). When you do pack it up, use an insulated cooler and plenty of ice packs to keep your food at 40 degrees. Food from the fridge should go immediately into the cooler.
Safety to Go. If you decide you want some take-out chicken or something else prepared and all ready to go, make sure you eat it within two hours of picking it up. Otherwise, buy it the night before and thoroughly cool it down as per the step above.
Cooler Car. On the way to your picnic destination, make sure you keep your cooler in the car with you. Everything else can go in the trunk, but the cooler will get too hot in the trunk, compromising your food. The cooler will stay cooler in your air-conditioned car.
An Even Cooler Idea. Use a second cooler for the drinks. That way, the open and close action that the cooler gets from everyone fishing out their favorite drink every five minutes won't cause your food to get warm. (I wish we could work that out with our home refrigerators!)
Toss the Sauce. And toss anything else left out for more than an hour, or in less time than that if it's really hot outside.
No Doubt. If you are even questioning how long something has been left out or if it is any good, give it the old heave-ho — it's definitely not worth getting ill over!
Now that you understand the ground rules, you're ready to pack away. Make sure to take plenty of bottled water to keep yourself hydrated — soft drinks are fun, but won't keep you adequately hydrated. Also, some fresh fruit (anything but bananas — they just don't travel too well) and some easy and packable veggies make for a well-balanced picnic. To make it easy, check out the produce section of your grocery store — there's a veritable produce stand, washed, bagged, and ready to go. Choose your favorites to nibble on to get your nutrition kicked up a couple of notches.
It wouldn't be a picnic without some fabulous food — so here is a terrific picnic recipe for chicken — enjoy!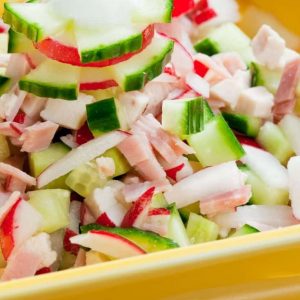 Chicken Radish Salad
Ingredients
3

cups

cubed cooked chicken

4

eggs

hard boiled, chopped

1

carrot

julienned

1

cup

radishes

sliced very thin

1

apple

chopped

1

cucumber

chopped

3

green onions

chopped

1

teaspoon

fresh squeezed lemon juice

3/4

cup

Greek yogurt

Salt and pepper to taste
Instructions
In a large bowl mix all ingredients together, adjusting the yogurt to your liking, salt and pepper to taste.

Serve on a bed of lettuce, or in pitas, or wraps.
For MORE delicious recipes like this, subscribe to Dinner Answers today!