If you've been saving all your millet for your bird feeders, you might want to rethink that! Millet technically is a seed and not a grain, but in the culinary world, it's a grain . . . so that's how we're going to treat it for the sake of this article.
This delicious tiny round food can be served up in place of rice or oats, and it's great for anyone with a gluten sensitivity.
While millet has been used mostly for livestock and birdseed in the United States, people in Ethiopia have been eating it since back in prehistoric times. And, it was mentioned in the Bible as being one of the ingredients used in unleavened bread. Listen, folks, if it's good enough for Jesus, it's good enough for me!
Millet is a great source of magnesium, fiber, fatty acids, and phosphorous. It can be enjoyed cooked and served cold in salads, or warm as a substitution for mashed potatoes or rice. Use ground millet in muffins, or add nuts and fruits to it and serve it as you would oatmeal porridge in the morning.
To cook millet, use one part millet to two and a half parts of broth or water. Your liquid should be boiling before adding the millet. Then cover your pot and simmer for about 25 minutes or until the texture is similar to that of rice. If you'd like it creamier, simply add more water throughout the cooking process.
Here's a Trick:
Roast the grains in a dry skillet before cooking them to give them a nutty flavor!
And a Tip:
Rinse your millet under running water to get rid of any dirt coating the grains.
And your Recipe: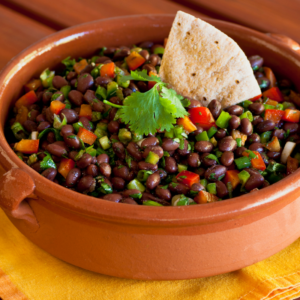 Millet and Black Bean Salad
Ingredients
SALAD:
1

cup

millet

uncooked and rinsed

2 ½-3

cups

vegetable broth

2

cups

black beans

drained

2

large

tomatoes

chopped

1

small

yellow bell pepper

diced

1

medium

cucumber

diced

1

medium

red onion

diced

½

cup

cilantro

chopped

makes 4 tablespoons

3

tablespoons

extra virgin olive oil

1

tablespoon

balsamic vinegar

1

clove

garlic

pressed

Pinch

dried basil

Pinch

dried oregano
Instructions
In a medium saucepan, cook the millet in 2 cups of vegetable broth until broth is absorbed, about 20-30 minutes. Allow to cool: fluff with fork. In a large bowl, combine cooked millet, drained black beans, tomatoes, pepper, cucumber, and red onion. Mix all dressing ingredients together and pour over the salad. Cover and refrigerate until chilled.
Our Dinner Answers program has even more great recipes! Start your subscription today!