Quinoa is a seed that's been around forever, though with the popularity it's gained in recent years, you'd think it was a new invention. Quinoa has an amazing nutritional profile. This seed is gluten free, high in protein and rich in health-supportive fats.
Quinoa is full of vitamins, fiber and antioxidants. It can lower your cholesterol, and it's easy to digest.
Easy to eat, easy to cook and easy to digest, there's much to love about quinoa.
There is a debate in the nutrition world about whether quinoa is Paleo, and I say that if it doesn't cause you any discomfort, you go ahead and eat it. Do keep in mind, though, that though quinoa is a more nutritious option than a lot of foods, it is carb heavy, so practice good portion control.
Shop for organic, fair-trade quinoa so you know that farmers in South America are getting a fair price for their crop.
Now, it's time for your Trick:
You can find quinoa in beige, orange, purple, green and almost every color in between. Beige is the tastiest; red is the healthiest!
Your Tip:
Always rinse your quinoa before cooking it. Quinoa has a bitter coating that must be rinsed off before you prepare it. Otherwise, it won't taste very good. (You should also remember to drain your quinoa after cooking and let it rest for a few minutes.)
And your Recipe: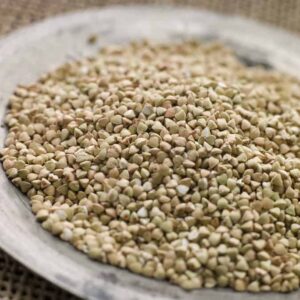 Quinoa Salad
Ingredients
1 1/2

cups

quinoa

3

cups

low sodium vegetable broth

1

large

red onion

finely chopped

1

lage

red bell pepper

cored, deseeded, and chopped

1

large

cucumber

peeled and chopped

1/2

cup

fresh basil leaves

stems removed, chopped

1/4

cup

orange juice

1

tablespoon

balsamic vinegar

1

teaspoon

grated orange rind

Salt and pepper

to taste

2

tablespoons

olive oil

5

tablespoons

pine nuts

toasted

6

leaves

red leaf lettuce
Instructions
In a colander, rinse the quinoa thoroughly and drain.

In a medium size saucepan, bring the broth to a boil, stir in the quinoa, and return to a boil. Lower the heat and simmer, covered, for 20 to 25 minutes or till all the liquid is absorbed. Let stand for 5 minutes.

In a large bowl, combine the quinoa, onion, red bell pepper, cucumber and basil.

In a small bowl, combine the orange juice, vinegar, orange rind, salt and pepper. Whisk in the oil. Pour the dressing over the quinoa and toss well. Arrange each serving on the lettuce and garnish with pine nuts.
Looking for more delicious recipes like this one? Check out our Dinner Answers program today!