The coming of summer means the coming of peaches. These fuzzy, sweet fruits are a staple snack in the south when they're in season. So juicy and delicious, peaches are a pretty easy sell.
Peaches come in two main varieties; freestone peaches and clingstone peaches. You can probably tell from the names what differentiates them, but basically, the stone clings to the flesh of clingstones, and it easily separates from freestones.
You may find peaches with orange, golden, white, or pale yellow flesh. I enjoy white peaches because they tend to be sweeter and less acidic than the orange peach we're most familiar with.
These fuzzy orbs are packed with fiber, vitamins C and A. They are wonderful in sweet or savory dishes. I love peaches eaten right out of hand, sliced into salads, and tossed into my juicer (remove the stone first!).
When it comes to buying this versatile fruit, I would suggest only purchasing if you have an organic option available. Peaches are on the Dirty Dozen list because of the number of chemicals used to farm them. There have been more than 60 different pesticides found on the surface of peaches and almost as many have been found in those single-serving packages often packed in children's lunches.
Always look to the Dirty Dozen list and the Clean Fifteen to help you decide which fruits and vegetables need to be purchased organic and which you can get away with on the conventional side.
And now it's time for your Trick:
To check the ripeness of a peach, use your whole hand to gently check if the flesh of the peach has some give to it. Peaches bruise very easily so don't use just your fingertips to check that the peach isn't too hard. The skin of a ripe peach will generally have an even creamy yellow or golden color.
Your Tip:
For the absolute best peaches, get them from June until the end of August.
And your Recipe: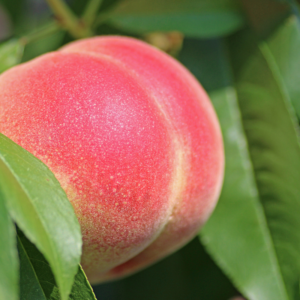 Sweet Summer Salad
Ingredients
1

16-oz. can

pineapple chunks in juice

reserve juice

3

large

nectarines

cut into sections

1

16-oz. can

peaches in juice

reserve juice

1

large

carrot

shredded

1

cup

chopped celery

2

apples

cored and chopped

1

pear

chopped

2

cups

broccoli florets

1

small

red bell pepper

seeded, de-ribbed, and cut into strips

1

small

green bell pepper

seeded, de-ribbed, and cut into strips

1

small

red onion

sliced

1

cup

orange juice

not concentrate

12

leaves

Romaine lettuce

1/2

cup

copped pecans
Instructions
Combine fruit and vegetables in a large bowl. Combine reserved fruit juices and orange juice; pour over fruit/vegetable mixture, but do not over-saturate. Toss well to coat and let stand in refrigerator for about 30 minutes. Place 2 lettuce leaves on each dinner plate; add fruit mixture, top with nuts and serve.
PS–You can receive delicious menus (complete with shopping lists!) like this delivered right to your email inbox by subscribing to Dinner Answers today!