Salt is an essential nutrient. Our bodies NEED salt. Note that I am not saying we need a LOT of salt, we just need some (about 500 milligrams a day). This is one of the reasons I much prefer sea salt to other salts—it's fresher, lighter, and won't bog you don't like regular old table salt. Table salt has chemicals in it to keep it from clumping; such as sodium silicoaluminate, calcium phosphate, or magnesium carbonate for example. No one needs chemical additives in their food!
And here's a TIP:
To prevent salt from clumping up in your saltshaker, add a couple of grains of rice to absorb moisture. I bet you've seen restaurants do this on occasion. It really does do the trick and keeps your salt free-flowing with no chemicals, yay!
And a TRICK:
I like to keep my salt in a dish so I can grab it by the pinch instead of risking oversalting it with a saltshaker. Obviously, you have to have a saltshaker on the table, but for cooking, I use a little salt cellar—it's a little dish with a lid and I keep it right by the stovetop. Works like a charm and helps me to gradually salt to taste without risking too much salt.
And your RECIPE: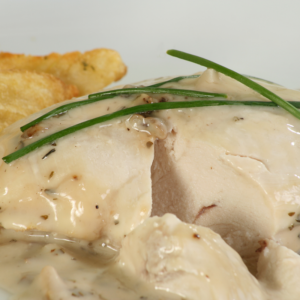 Herbed Skillet Chicken
Ingredients
4

boneless skinless chicken breast halves

1/2

teaspoon

thyme

1

teaspoon

garlic powder

1/2

teaspoon

onion powder

salt and pepper

to taste

1/2

cup

plus 1 tablespoon water

divided

1

tablespoon

cornstarch

2

tablespoons

chopped parsley

1

tablespoon

olive oil
Instructions
In a skillet, heat olive oil over medium heat. Add chicken and cook 10 minutes or until slightly browned, turning once. Combine thyme, garlic powder, onion powder and salt and pepper; sprinkle over chicken. Remove chicken, keeping warm and add 1/2 cup water to the skillet, using a wire whisk to scrape the pan and get up

all the browned bits. Bring water to a boil, add chicken back in; cover, and reduce heat and cook 10-20 minutes, depending on thickness of chicken, until chicken is done. Remove chicken from skillet. Combine cornstarch and remaining 1 tablespoon water. Add to pan juices; cook until thickened and translucent, stirring or whisking constantly. Taste the sauce, add more salt and pepper if needed, reheating for just a minute. Pour sauce over chicken and sprinkle with parsley.
Our Dinner Answers program has new Heart Healthy menus!