Healthy Foods
After School Snacks That Make the Grade
By Leanne Ely, CNC
Whenever your children hop off the bus when they get back from school, one of the first things they're guaranteed to say is "I'm hungry." It's very easy to supply them with a tasty and filling snack to hold off their appetite till dinner. The snacks that should be offered instead of chips or goldfish or a popsicle, are the same things that keep you satiated and happy; protein, fat and some fibrous carbohydrate.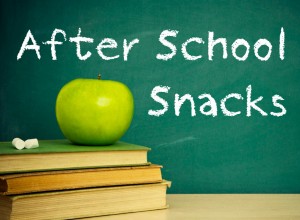 Anything full of fiber is a great crowd pleaser because you don't need to consume a huge amount for it to fill you considerably. So when the hints of being hungry are dropped, give your kids a handful of almonds or some baby carrots. Add some hummus and you're good to go.
Those 100-calorie snack packs have become quite the thing. The problem with those things (besides the expense, the additives and the sugar) is they don't cut it on any of the nutritional fronts. Make your own "snack packs" instead. Offer nut butters and cut up apples for dipping, Greek yogurt and even a smoothie.
Want more Mom-tested snack ideas? Check out our popular snack series.