You will notice in a lot of my recipes, I say "salt and pepper totaste" There is a reason for this—not because I'm trying to frustrate you! Salt should be added slowly and, depending on the recipes, in steps. That's how the pros do it and it makes sense—this is how to get the best taste and to make sure you don't over salt. The reason to salt anything is bring out the flavor of food—not mask it.
But salt is salt is salt…right? Not necessarily. There is a big difference in types of salt– kosher, sea salt and regular table salt. You may want to rethink your saltshaker.
Kosher salt is coarse and free of any additives. The taste is lighter, less salty than regular table salt and is a good choice for cooking. As a matter of fact, in a poll of 50 top U.S. chefs, 86 percent preferred cooking with kosher salt than any other kind.
Sea salt is made from evaporated seawater and contains the extra minerals found in the seawater itself. Baleine (French for whale) is the brand of sea salt most readily available in supermarkets. It comes in a blue container with a whale on the label. It's pricier than table salt for sure, but it will last awhile.
Table salt is pure sodium chloride with a small amount of chemical substance that stops it from clunking together and therefore, free flowing. Believe it or not, table salt often has dextrose (a sugar) added to stabilize it—who knew?
Just remember—the flavor of your food is truly worth its salt. Especially when you are using a quality salt.
Here is a very simple, but quite delicious recipe from Saving Dinner that every seasoned cook (vegetarian and low carbers included) should love, especially this time of year: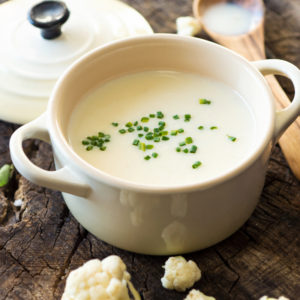 Cream of Cauliflower Soup
Ingredients
3

tablespoons

butter

1

small onion — chopped

1 1/2

quarts

chicken broth

or vegetable broth

1 10

oz.

package frozen cauliflower

1 1/2

cups

milk

2

tablespoons

flour

salt and pepper to taste
Instructions
In a soup pot, melt butter and add onion. Cook till onion is translucent. Add flour and incorporate, making sure flour isn't lumpy before adding chicken broth. Add broth and bring to a boil.

Add cauliflower to broth and simmer until cauliflower is tender, about 10 minutes.

Transfer cauliflower to a blender and puree (use a slotted spoon). Add back to the soup pot. Mix well and add milk, salt and pepper to taste. Heat to a very low simmer, but do not boil or soup will break.
Notes
SERVING SUGGESTIONS: A big green salad and some whole grain rolls (if you don't mind the carbs) will do the trick. Also, calorie count is low so feel free to have a couple of bowls.
Seasoned with Salt –excerpted from Saving Dinner (Ballantine) by Leanne Ely, C.N.C.