Everyone loves shrimp. It's easy to prepare, it's versatile and it's delicious. Shrimp is the most eaten seafood in the United States. Probably because it's found in virtually every type of cuisine imaginable, from Asian stir-fries to Indian curries. But shrimp is one of those controversial foods that should only be eaten if it's of a certain quality.
Allow me to explain.
Shrimp isn't a terribly nutrient-dense food, but it is a great source of protein and a good source of calcium. It contains iodine, omega-3s, antioxidants, and anti-inflammatory properties. It also provides us with selenium, an important mineral that's good for your mood, your cardiovascular system, and your heart. And—bonus!—selenium in shrimp is known to be quite well-absorbed by the human body.
However, it can be difficult to find high-quality shrimp and shrimp that have been caught in a sustainable way.
See, you don't want to be eating farm-raised shrimp. And you especially don't want to be eating foreign farm-raised shrimp.
Why?
In Latin America and in Asia, where there were once nice happy little shrimp farms, there are now shrimp factories. Shrimp are crammed into ponds of roughly 15 square feet. These shrimp farms are generally swirling with feces, antibiotics, and chemicals. I would say that farmed shrimp from Asia and Latin America (tiger prawns and black tiger shrimp) are the number one type of shrimp not to buy.
Imported wild shrimp, though, aren't a good choice either. That's because they're fished by large trawlers that disturb all kinds of sea creatures by scraping along the floor of the ocean.
Wild-caught shrimp from the Gulf of Mexico have been compromised with the oil spill. We're being told that they are safe for human consumption, but I'm not 100% convinced.
So, which shrimp do you buy?
Your best choice would be California coonstripe shrimp, Oregon bay shrimp, and British Columbia spot prawns.
If you can't find any of those options and you must have shrimp, search for US-farmed shrimp that come from a farm that uses a full circulation system. Read your labels or ask the fishmonger. And yes, the responsibly farmed shrimp are going to cost more—that's just the way it is!
Now it's time for your Trick:
When marinating shrimp (if you ever eat shrimp again after reading this!), leave the shell on so that every bit of the marinade is absorbed. Use the shells to make stock by boiling them with garlic, onion, celery, and carrots, along with your favorite spices. Use it for chowders or soups.
And your Tip:
You absolutely must not overcook your shrimp or it will be rubbery and gross. Once the shrimp is pink, it's done.
And your Recipe: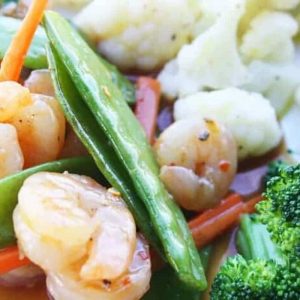 Shrimp and Snap Pea Stir Fry
Ingredients
4

tablespoons

coconut oil

divided

1

clove

garlic

minced

1/4

cup

chopped onion

1

large

jalapeño

chopped

sea salt and freshly ground black pepper

to taste

1

pound

shrimp

peeled and deveined

1

large

carrot

chopped

2

cups

trimmed sugar snap peas

1/4

cup

low sodium chicken broth

3

tablespoons

coconut aminos
Instructions
In a large skillet, heat 2 tablespoons coconut oil over medium heat.

To the skillet, add the garlic, onion, jalapeno, salt and pepper, and shrimp.

Cook for 10 minutes, until shrimp, is opaque and curled into a "c" shape.

Place shrimp into a bowl.

Heat the remaining coconut oil in the skillet over high heat.

To the skillet, add the remaining ingredients (carrot through coconut aminos) and season with salt and pepper.

Cook for 10 minutes, until vegetables are tender.

To the vegetables, add the shrimp and stir.

Serve warm.
Looking for more delicious recipes like this one? Check out our Dinner Answers program today!