In our pursuit of saving money, we find ourselves scouring the world and the web for ways to cut corners and expenses. And nowhere is that more apparent than in our weekly quest to feed the family.
We kill ourselves by searching high and low for coupons. We seek out the bargains, willingly investing our gas and time to get the lowest prices, even if it means a big drive. We're saving a lot of money, we say to ourselves.
But what about the concept of simplifying? It seems to me that we humans have this tendency to overcomplicate things and make it harder than it has to be. It's good to save money—especially when it comes to your grocery budget, don't get me wrong. But at some point, there needs to be a line drawn in the sand. It needs to make sense, not just cents!
I was thinking about this idea of simplifying while I enjoyed my wonderful breakfast this morning. It wasn't fancy, but it was simple. Two lovely eggs, basted to my liking on top of a bed of lightly sautéed garlicky spinach. Very satisfying, and very inexpensive, and no huge Madison Avenue ad campaign behind any of that food, no coupons, no nothing, and yet it cost me less than a dollar to have breakfast.
The takeaway lesson here is that real food doesn't usually have a lot of hoopla and fanfare telling you it's there. Packages of dried beans and bunches of fresh broccoli aren't advertised on TV. You won't see any cartoon characters on anything in the produce department of your grocery store, nor will you see celebrity endorsements for grass-fed beef or wild fish. Think about that.
And while you're thinking, here's a recipe using simple, easy-to-find, healthy ingredients. Enjoy!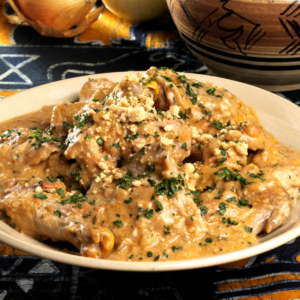 Crock-Nutty Chicken
Ingredients
1/3

cup

peanut butter

6

tablespoons

soy sauce

divided

3 1/2

teaspoons

onion

minced

2

cloves

garlic

pressed

several drops Tabasco

1/4

teaspoon

ground ginger

6

boneless skinless chicken breast halves

3

tablespoons

honey

1/2

tablespoon

butter

melted

2

cups

chicken broth

2

tablespoons

corn starch
Instructions
Mix peanut butter, 3 tablespoons of the soy sauce, onion, garlic, tabasco and ginger.

Spread peanut butter mixture inside of each chicken breast halves piece. Fold in half; close with small skewer or toothpick. Place in crockpot. In a bowl, mix remaining 3 tablespoons soy sauce with honey, butter and broth and pour over chicken. Cover and cook on low for 4 to 5 hours.

Remove chicken from crockpot and keep warm. Transfer remaining cooking liquid to a saucepan and heat to a boil. In a small bowl, dissolve cornstarch in small amount of cold water and stir into sauce. Cook for about 5 minutes or until sauce thickens nicely. Serve with sauce spooned over the top of chicken. Don't forget to remove toothpicks before serving!
Notes
SERVING SUGGESTIONS: Brown rice or quinoa, a spinach salad and some baby carrots.
PS–You can receive delicious menus (complete with shopping lists!) like this delivered right to your email inbox by subscribing to Dinner Answers today!