I love food. I like to talk about it, read about it, write about it, buy it, cook it and definitely eat it. While I wouldn't say I'm exactly obsessed with all things edible, I would say I'm definitely food-centric. It's how I roll, y'all.
So today as I was pondering my column, I started to think about things that made me happy food-wise and a wondrous occurrence happened—a song leaped into my heart and I just have to share it with you. Are you ready? My Favorite Things sang to the tune of (you guessed it) that beloved Sound of Music song, My Favorite Things.
Sing along if you want, make a video on Youtube.com if you've got the chops for it (and send me a link so I can see you sing!), or make up your OWN version. This has been a blast! Enjoy my musical offering and see you next week!
My Favorite Things (in the healthy food department of life) by Leanne Ely
Cream-colored yogurt and crisp apple slices Raw almonds and string cheese and chicken with spices Simple ingredients made into meals This is so easy and good to eat real!
Spinach leaves in salad and wild Alaskan salmon Cubes of avocado and tomatoes are jammin'
Feta cheese crumbles in the salad I fling These are a few of my healthiest things!
Kalamata olives, I'll add some red onion Olive oil and balsamic will dress it in fun, yeah Cucumber slices and pine nuts will sing This is my salad, my favorite thing!
When I eat junky stuff
When I allow transfats in
Those make me feel so bad
I simply remember my most healthiest foods And then I will feel so glad!
Here's one of my favorite salad recipes with extra veggies from Saving Dinner (Random House) Enjoy!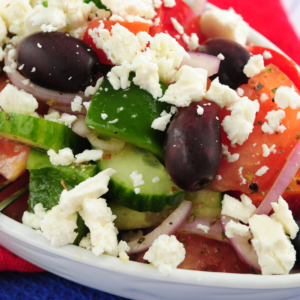 Great Greek Salad
Ingredients
DRESSING:
1/4

cup

olive oil

3

tablespoons

lemon juice

1

tablespoon

balsamic vinegar

3/4

teaspoon

dried oregano

Sea salt and freshly ground black pepper

to taste
SALAD:
1

red bell pepper

seeded and sliced

1

green bell pepper

seeded and sliced

1

red onion

sliced into thin rings

1

English seedless cucumber

sliced

1

bunch

broccoli

chopped

12

Kalamata

OR black olives

3

tomatoes

sliced

12

ounces

crumbled feta cheese
Instructions
In a small bowl, whisk together the dressing ingredients.

In a large bowl, toss remaining ingredients together. Pour dressing over the salad and toss.
Notes
SERVING SUGGESTIONS: Serve with whole grain rolls.
PS–You can receive delicious menus (complete with shopping lists!) like this delivered right to your email inbox by subscribing to Dinner Answers today!