Calabaza is a popular variety of squash, similar to pumpkin. Grown in South and Central America and the Caribbean, calabaza squash is available year-round. If you're lucky enough to find calabaza locally, you'll find it in the produce section of the market.
This squash variety is usually round in shape but can range in size from small like a cantaloupe to large like a watermelon. The skin of calabaza squash can range in color from orange to green while the flesh of the fruit is a bright orange.
Calabaza has a sweet flavor and it can be used as a substitute for butternut squash, acorn squash, or pumpkin. It is rich in potassium and chock full of Vitamins A and C.
Roasted or baked calabaza squash is very versatile. It can be used in place of pumpkin in custards, soups and pies, enjoyed as a side dish in place of potatoes, or used for a burst of color and nutrition in a smoothie.
Now that you've made a note to look for calabaza at your local market, it's time for your Trick:
Mash hot mashed calabaza with butter, crumbled bacon, and maple syrup for a delicious salty/sweet side dish.
Your Tip:
The easiest way to cook a calabaza or any type of squash, is by using your slow cooker. Simply wrap the squash in aluminum foil and cook on low  for 6 hours or on high for 4 hours. When you remove the squash from the slow cooker insert, slice the squash in half lengthwise and scoop out the seeds. From there you can easily scoop the flesh from the peeling. Keep refrigerated for up to a week in an airtight container.
And your Recipe: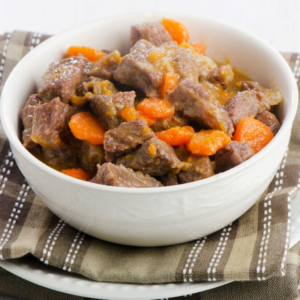 Beef & Calabaza Squash Stew
Ingredients
2

tablespoons

olive oil

1

medium

yellow onion

chopped

3

cloves

garlic

pressed

1

teaspoon

dried rosemary

crushed

1

teaspoon

dried thyme

1 1/2

pounds

beef stew meat

cubed

1/2

teaspoon

sea salt

1/2

teaspoon

freshly ground black pepper

4

cups

low sodium beef broth

watch for gluten and MSG

1

pound

Calabaza squash

peeled and cubed
Instructions
Heat the olive oil in a Dutch oven over medium heat.

Add onion, garlic, rosemary and thyme; sauté until fragrant, about 5 minutes.

Sprinkle beef with salt and pepper. Raise heat to medium-high and add beef; brown on all sides.

Add beef broth and whisk up all of the browned bits from the bottom of the pan.

Add calabaza squash and stir to combine well. Bring mixture to a boil then reduce heat, cover and simmer for 1 hour until beef is cooked and fork-tender.
Looking for great recipes for all types of squash? Try Dinner Answers! Get all the details here!