Tis the season for squash blossoms, and if you can get your hands on them, I highly recommend you scoop some up.
Squash blossoms are the male and female flowers of squash plants. The female blossoms produce the little baby squashes and the male flowers exist simply to aid in the fertilization process. Squash blossoms are orange/yellow-colored flowers about four inches long. They have papery petals and green leaves.
You might have a hard time finding squash blossoms. In fact, you might have to really scrounge for them. That's mostly because they are so exceptionally perishable, they don't live long enough to be stocked at grocery stores. Ask your farmers' market vendors if they can bring some to sell you if you don't see them at existing booths. Where there are squashes, there will be blossoms!
There's not a whole lot of nutrition in these pretty orange flowers, but they have a delightfully mild flavor, they're fun to prepare and they are visually stunning when plated nicely.
Now, it's time for your Trick:
Before preparing squash blossoms, remove the fuzzy yellow parts from inside the flower and wash the blooms well to remove dirt and flush out any insects.
Your Tip:
Stuff your squash blossoms with a mixture of cheese and shrimp, wrap them with bacon and fry them on the stovetop. What a delicious appetizer! You can also treat them with a light batter and fry them, or you can bake them and top them with tomato sauce. So many options, so few blossoms!
And your Recipe: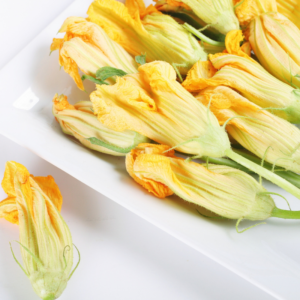 Stewed Yellow Squash Blossoms
Ingredients
20

large

fresh squash blossoms

1

small

red onion

diced

1

serrano pepper

seeded and minced

1

Tablespoon

olive oil

1

cup

canned fire roasted tomatoes

drained and chopped

small handful

fresh parsley

chopped

1/2

teaspoon

sea salt

2

Tablespoon

crumbled feta
Instructions
Break the stem off the bottom and remove the stamen in the center of each blossom and discard. Cut the blossoms crosswise into 1?2 inch sections. In a medium skillet on medium heat, saute the onion and pepper in oil, until tender. Add the sliced flowers, the tomato, and the parsley. Cover and let the mixture steam over medium-low heat until the flowers are tender, about 8 min. Season with salt and sprinkle with cheese.
For more delicious recipes like this, subscribe to Dinner Answers today!