Tips, Tricks, & a Recipe
What is Star Fruit?
By Leanne Ely, C.N.C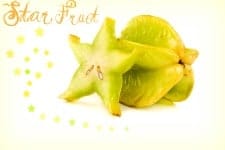 Star fruit is very popular in Asia, and obviously named after it's star-like exterior. Star fruit tastes like a cross between a melon and a grape and is usually a yellow to light green in color. Ripe star fruit are lightly sweet, crunchy and juicy. And, you can eat the entire fruit, skin and all!
You can use a star fruit in your recipes anyplace you would use any other crispy sweet fruit, such as apples. With their starlike appearance using slices of them as a garnish is a great idea!
Here's a TIP:
If you suffer from kidney issues, or food allergies, you might consider avoiding star fruit due to the oxalic acid it contains. Also, check with your doctor if you're on any long-term medications as there are reported interactions, associated with eating the fruit.
Here's Today's TRICK:
Star fruit is chocked full of vitamin C and antioxidants, plus they're only 30 calories per fruit. Get this…you can eat them cooked or raw. Who knew?
And your RECIPE:
Chicken Salad

2 cups chicken boneless chicken breasts, grilled, cubed
4 star fruit, sliced
2 cups mango, diced
1 yellow bell pepper, chopped finely
1 red bell pepper, chopped finely
2 stalks celery, chopped finely
4 green onion stalks, chopped including green
2 teaspoons garlic, minced
2 teaspoons ginger, minced
1/2 jalapeno pepper, chopped finely
2 tablespoons honey
2 tablespoons lime juice
2 tablespoons melted virgin coconut oil
2 cups Greek yogurt*
Mix all ingredients together except yogurt until well combined, add yogurt until desired consistency. *It may take less than 2 cups add a little at a time.