Do you have memories of sitting outside, sucking the salt off of sunflower seeds before crunching through to the meaty flesh and spitting out the black shells?
Little did we know back then that we were getting a boatload of nutrients out of these yummy little seeds, but we certainly were. Check out the list below and you'll see what I mean:
Cardiovascular benefits. Sunflower seeds are very high in Vitamin E. One-quarter cup of sunflower seeds will give you more than 90% of your daily recommended amount of Vitamin E, an antioxidant that goes a long way towards preventing cardiovascular disease. This is because Vitamin E keeps free radicals from oxidizing cholesterol, and only when it's oxidized can cholesterol stick to blood vessel walls, leading to stroke, heart attack, and blockages.
Anti-inflammatory agent. That Vitamin E also makes sunflower seeds an incredible anti-inflammatory, helping to reduce symptoms of arthritis, asthma, and other diseases that cause inflammation in the body.
Cancer prevention. Sunflower seeds are high in selenium, which inhibits the proliferation of cancer cells in the body. That same quarter cup of sunflower seeds also gives us more than 30% of our daily recommended amount of selenium. Sunflower seeds can reduce the risk of bladder cancer, prostate cancer, and colon cancer.
Bone & skin health. Calcium is important for bone health, but so is magnesium, and sunflower seeds are a good source of magnesium. Vitamin E is also well known for being good for our skin and it can protect against UV damage.
Now, how about that! All those great health benefits and delicious to boot!
Sunflower seeds are also pretty easy to incorporate into our diet. Add them to your salads (green salads and chicken/tuna/turkey salads), put them in your baked goods, scrambled eggs, and even on sautéed vegetables. Or grab a handful as a mid-afternoon snack.
Now it's time for your Trick:
If you can't find shelled sunflower seeds and you'd prefer not to shred the skin of your fingertips, there is an easier way to remove the shells. Pop your sunflowers in a seed mill, then dump everything in some cold water. The shells will float to the top and you can skim them off with a slotted spoon!
And your Tip:
Sunflower seeds can go rancid because of their high-fat content, so store them in the freezer.
And your Recipe: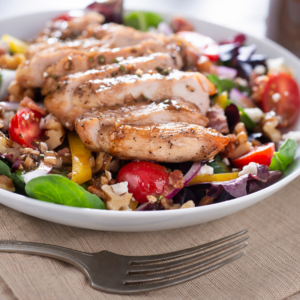 Kandi's Favorite Chicken Salad
Ingredients
12

ounces

cooked chicken breast meat

cut into strips

24

ounces

Romaine lettuce

chopped

1

cup

diced green bell pepper

1

cup

chopped mushrooms

3/4

cup

diced red onion

1 1/2

cups

broccoli sprouts

1

cup

frozen petite green peas

slightly thawed

1

cup

diced cucumber

1

cup

shredded carrots

3/4

cup

slivered almonds

3/4

cup

sunflower seeds

Easy Balsamic Vinaigrette dressing

see recipe below
Instructions
If you haven't already done so, cook and cool chicken. In a large serving bowl, toss together chicken strips and next 8 ingredients (lettuce through carrots); add almonds and sunflower seeds. Toss again and top with dressing to taste.
PS–You can receive delicious menus (complete with shopping lists!) like this delivered right to your email inbox by subscribing to Dinner Answers today!