There was an ad campaign years ago, declaring eggs to be "incredible and edible." Eggs have been given the nutritional shaft for a long time because of the cholesterol factor, but at long last, they are now declaring eggs to be the nutritional giants they have always been. (whomever "they" are)
In any case, while eggs pack a strong nutritional punch, they're also cheap. Consider this: a dozen eggs can be had for under $2, and a lot of times are just over $1. High quality, protein rich and cheap. You just need to know how to fix 'em!
One of my favorite things to do with eggs is have scrambled eggs and pancakes for dinner. We call it Breakfast for Dinner and my kids love it. I serve orange juice in wine glasses, light candles and have classical music playing in the background. Who says cheap needs to be boring? I try and do this once a week, because it is so gentle on our budget.
Another favorite is the infamous (real men don't eat) quiche. It is a cinch to make it crustless and could definitely fit in the fast food category, as well. Omelettes are another option, but they are certainly time consuming to make, if you do them right. So here's my quick and easy quiche that you can make in less than 5 minutes.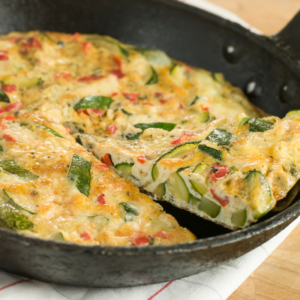 Quick and Easy Quiche
Ingredients
1

dozen

eggs

beaten like for scrambled eggs

1/4

cup

milk

Sea salt and freshly ground black pepper

to taste

1

10-oz. pacakage

frozen chopped spinach

thawed and drained

1/4

cup

chopped onion

sauteed

1

cup

ground beef

cooked (I use just about anything from leftover spaghetti meat to leftover taco meat – use whatever you have)

6

ounces

shredded sharp cheddar

I use lowfat

In

a bowl

beat your eggs and add milk, salt and pepper.
Instructions
In a bowl, beat your eggs, milk, salt and pepper. In a 9 x 13 pan coated with a little olive oil, put meat, spinach and cheese down then top with egg mixture. Bake at 350 for 20 to 30 minutes, but check it often. I have noticed a great deal of difference in cooking times on this. Serve it with a great big salad and you have one wonderful supper.
That's all there is to it. Simple, easy, cheap and quite good! Enjoy!
Another way to have dinner ready in a flash is to use our Freezer Menus!  Click here to get all the details!