To miss out on warm, homemade soup with some good bread or homemade muffins on colder days, just breaks my heart. The condensed stuff in the red labeled can just doesn't count. There is something soul-satisfying about a hearty soup, simmering on the stove (or in the crockpot) with the smell of something baked coming out of the oven.
Don't roll your eyes or sigh wishing you could pull this off. Having a nice pot of soup on the stove (or my appliance of choice, the crockpot) isn't just a picture from some bygone generation.
It's happening today all around you by sharp cooks who get it: soup doesn't need to cost you heavily in the time department. Good soup, no–great soup even, can be made quickly, in just minutes. The neat thing is, everyone will think you slaved over that hot stove all day when in reality, you were doing everything BUT cooking!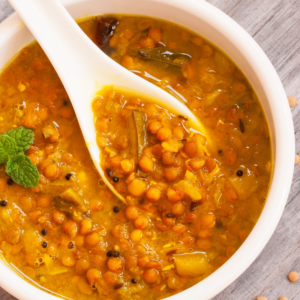 Curried Lentil Soup
Ingredients
2

teaspoons

olive oil

1

cup

chopped onion

1 1/4

teaspoons

curry powder

3

cups

water

4

cups

chicken broth

or veggie broth

3

cups

lentils

or use one package--that's what I do

2

tablespoons

chopped fresh basil

or 2 teaspoons dried

2

tablespoons

balsamic vinegar

1/2

teaspoon

salt

and pepper to taste

1

14.5-oz. can

diced tomatoes

undrained
Instructions
Heat oil in a large Dutch oven over medium-high heat.

Add onion; saute 4 minutes.

Add curry; saute 1 minute.

Add water, chicken broth, and lentils; bring to a boil.

Cover; reduce heat.

Simmer 40 minutes or until lentils are tender.

Or after the onion is cooked, put everything in a crockpot and cook on high 3 to 4 hours, or low 7 to 8 hours.

But remember, crockpot times are different, so you'll have to check yours out.

Place 4 cups lentil mixture in a blender; process until smooth. (or skip this step entirely—that's what I do. I like the lumps and bumps).

Return mixture to pan.

Add basil, vinegar, salt, and tomatoes; cook until thoroughly heated.
Notes
Nutritional Information Per serving: 104 Calories; 2g Total Fat; 7g Protein; 17g Carbohydrate; 10g Fiber; 0mg Cholesterol; 168mg Sodium